Google Nexus 7 vs the iPad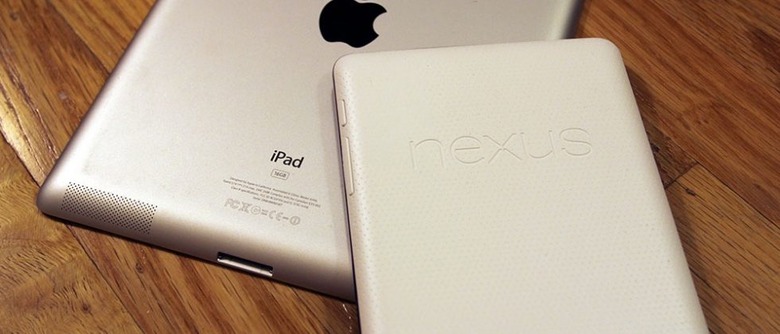 It's time for the inevitable comparison between the newest tablet on the market, the Google Nexus 7, and the dominant device in this category: the iPad. While the comparison might seem like the obvious thing to do, it's much more sensible to compare to the Amazon Kindle Fire – and before we get too deep into the specifications on either end, you need to know: Google is in a much better position right this second than Amazon. While the Kindle Fire has been a relatively giant force on the market over this past holiday season, it's had nothing on the iPad's market share in the entire time it's been on the market. As for the Nexus 7, you've got a beast that's ready and willing to be a competitor for both tablets.
The Google Nexus 7 is a tiny little beast of a tablet – where the iPad is an iconic piece of machinery, the Nexus 7 seems to be a bit more of a solid set of elements pounded together with a hammer into a device that's meant to be perfect for the several specific purposes it was made for. The Nexus 7 was made to be a device with which you download and consume media from the Google Play store – movies, television shows, music, books, and magazines – and of course games. The iPad, on the other hand, was made to be a companion for you in all situations where the iPhone is too small.
As far as a simple specs comparison, you've go the following. And keep in mind we're using the 3rd Generation iPad, aka the Retina Display iPad:
Screen Size: iPad 9.7-inch 2048 x 1536 pixel LED-backlit IPS (264 ppi) / Nexus 7 7-inch 1280 x 800 pixel LED-backlit IPS (216 ppi)
Device Size: 7.31" x 9.5" x 0.37" / 7.8" x 4.72" x 0.41"
Processor: Apple A5X / NVIDIA Tegra 3
Cameras: 5-megapixel iSight camera, VGA front-facing camera / 1.2-megapixel front-facing camera
Connectivity: AT&T and Verizon 4G LTE, Wi-fi / Wi-fi only (at the moment)
Internal Storage Size: 16, 32, 64GB / 8GB, 16GB
Battery: 11666 mAh / 4325 mAh
Media: iTunes Store / Google Play Store
Color Options: White, Black / White/Black combo, Black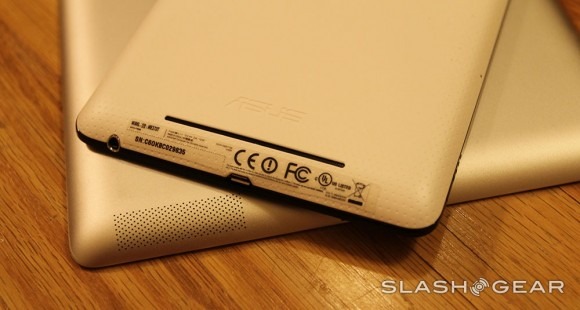 Additional elements:
iPad: Bluetooth 4.0, 30-pin dock connector port, accelerometer, magnetometer, ambient light sensor, gyroscope, GPS, AirPlay mirroring to Apple TV.
Nexus 7: Bluetooth 4.0, MicroUSB connector port, accelerometer, magnetometer, ambient light sensor, gyroscope, GPS, NFC.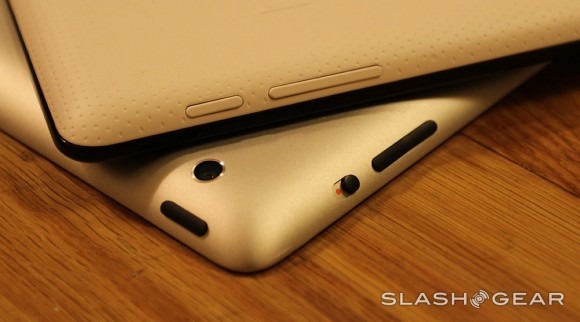 Both of these devices have been pushed as heroes for their respective pusher's app and media stores, and both devices are certainly going to get their fair share of 3rd party accessory support (if they haven't already.) The Nexus 7 has the bonus – if you can call it that – of having several hardware/software companies with vested interests in its success: Google, ASUS, and NVIDIA. The iPad, on the other hand, has quite a few 3rd party supporters, with developers aiming apps at the one device specifically as well as Apple's attention squared solely upon it for its software.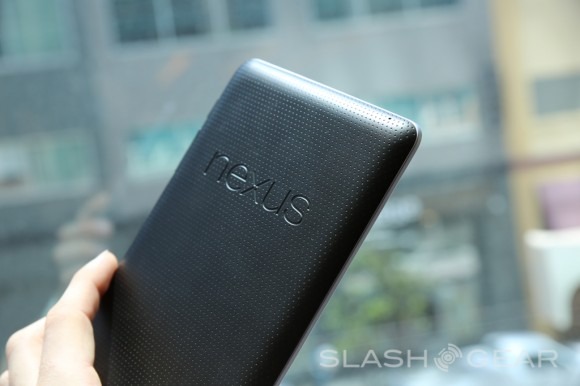 The price is going to be a giant factor for you if you plan on heading out to purchase a tablet today. The starting price of the Nexus 7 is just $199 while the iPad, in the iteration we're looking at here and above, starts at $499. The iPad is an iPad, and there's no replacement for that. The Nexus 7, also, is the only Google tablet in the position that it's in at the moment as well with the backing of three companies in the way you're seeing this week, and having a real push from Google (as heard in the keynote today – see our I/O 2012 portal for more) for hacking.
Have a peek at the photos and video above and below for a bit more hands-on action and be sure to let us know what you think of this battle asap! Also hit up our Android portal and Apple portal for the most awesome portal battle of all!