Google Maps update for Android available now

Earlier today, we brought you the news that Google was planning to launch a Google Maps update for Android to coincide with the launch of iOS 6. In iOS 6, Apple has cut Google out of the loop, instead opting for a Maps app of its own, so it makes sense that Google would want to launch an Android update around the same time that Apple released iOS 6. The only problem was that when Google announced the update, it didn't give us a specific time for release.
That time is apparently now, as the update to Google Maps for Android has gone live on the Google Play Store. One of the big features in this update is that Google Maps will now sync your search queries and previous maps over multiple devices. This means that when you search for a location on your Android phone, Google will suggest locations and direction data that you've previously searched for, allowing you to pull up maps and get directions quickly. Of course, for this syncing to work, you'll need to be logged into your Google account while searching and have web history enabled, but those are kind of no-brainers in this case.
Users can also access their map and directions history by going into the "Search" or "Directions" tabs in My Places. In addition to giving you the ability to quickly pull up your map history on mobile devices, this Google Maps update also brings a new way to zoom with one hand: just double tap the screen, hold your finger down, and then slide it across the screen to zoom.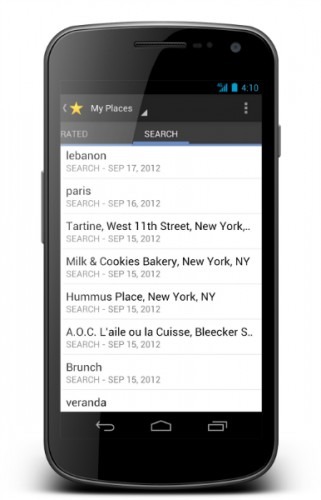 In the grand scheme, these features aren't groundbreaking, but they will certainly have their uses. Making it easier to bring up previous maps and direction data will be considered a godsend by those who hate typing on a small smartphone screen, and these new features complement the "always moving" society we live in nicely. Expect to hear more about Google Maps soon, because with new competition on the scene, you can bet that Google wants to make Maps the best app it possibly can.
[via Google Maps Blog]