Google Maps for iOS browser adds Street View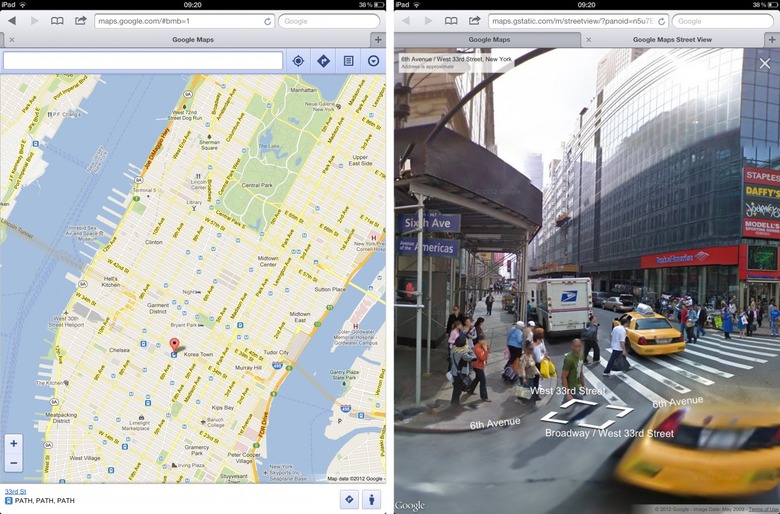 Google has updated Google Maps on the web with Street View functionality, allowing iPhone 5 and other iOS 6 users to again access the street-level photography missing from Apple's own Maps app. The new feature, which Google confirmed was incoming late last month, works on the iPhone and iPad, adding a Street View icon to the toolbar at the bottom of the page.
Clicking that button brings up a new tab in the iOS browser with Street View photography. Navigation is via the usual arrow buttons, with floating street names and other details overlaid; closing the tab returns you to the regular map.
Interestingly, loading up maps.google.com in Android does not bring up the same Street View icon. Instead, users of Android phones and tablets need to go to the dedicated Google Maps app to access the service. [Update: You can in fact access Street View in the Android browser version, but you need to drop a pin on the map first; the Street View icon does not show up by default as it does in the iOS browser] Google has said that it is working on a Google Maps for iOS app, though that isn't expected to be released until later in the year.
As well as apologizing for the poor reception of Maps, Apple has also made it straightforward for iOS 6 users to use alternative mapping providers. There is now a featured section for recommended downloads from the App Store, including MotionX, Waze, Mapquest, and TeleNav, while Apple also suggested adding homescreen shortcuts to Google Maps or Nokia Maps as web-based alternatives.
[Thanks to everyone who sent this in!]