Google I/O 2014 app is up - what we expect to see at I/O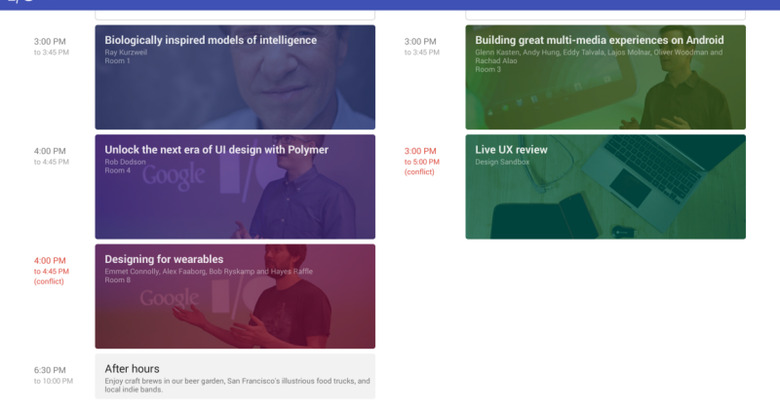 We should now be counting the days to the big I/O slated to take place late this month. And to make sure that you've dotted your i's and crossed your t's, Google has released the I/O 2014 app to clue you in on what happens when, throwing in a bit of goodies for those at home.
The Google I/O 2014 app will be your guide and secretary before, during, and after the event, whether you're on location or in virtual solidarity. Livestreams of some of the sessions can be viewed from the app, but not all sessions will be covered equally. To help those who won't be attending narrow down their choices, the app allows users to show only those parts that will have live coverage online. And in case you missed it, just as you missed 2012's and 2013's gatherings, you will be able to view them via the Video library.
My Schedule gives you your own personal timetable for Google I/O, letting you select the parts of most interest to you. If you will be there in mind and body, each session and event will have an accompanying map to make sure you don't get lost. The app will remind you about upcoming events and you can even optionally sync it with Google Calendar so that you're sure you won't miss a beat.
While the app does include all the sessions and topics so far known, those that aren't included and not yet known are just as important. And by that, we mean the announcements, whether rumored or confirmed, that are expected to take place at Google I/O. It is already a no brainer that two Android Wear smartwatches, the LG G Watch and the Motorola Moto 360, will be making their debut there. But both companies as well as Google have kept some tidbits under wraps, just enough to keep us guessing what the final product will really be like.
But Android Wear isn't the only star of the show, at least not according to the rumor mill. There is, for one, all that fishy talk about a new Nexus tablet, referring to the aquatic codenames that have surfaced recently in the Android Open Source Repository. One name, however, which wasn't actually masked was that of HTC, supporting rumors that Google will be announcing an HTC-made device this time around. One cannot also forget the Android TV rumors that have been going on for years, which are said to finally come true this year. But have the stars finally aligned this time?
Be sure to join us when we cover Google I/O on June 25 and 26, as we find out which rumor will become reality this year, and which will remain just that, a rumor, for another Google I/O yet to come.