Google Hangouts Meet hardware makes video calling play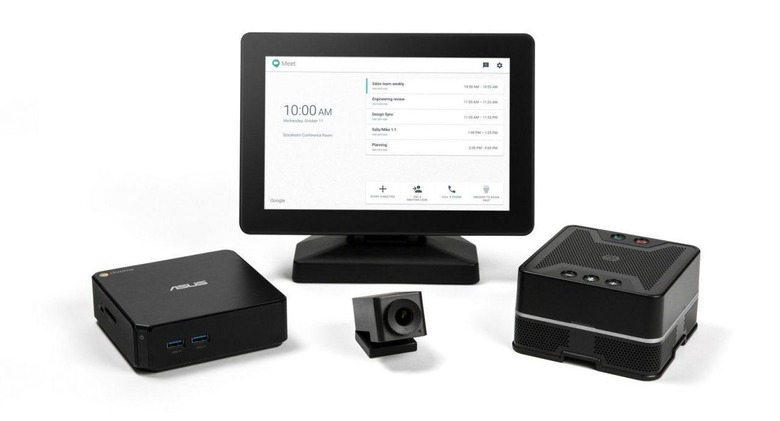 When it comes to Google hardware, all eyes may be on the Pixel 2 and Pixelbook, but the search giant still wants to make inroads in businesses. That explains the new Hangouts Meet hardware, an awkwardly named meeting management system that builds on the Hangouts Meet service recently announced for enterprise. It's another attempt to make video conferencing more straightforward.
Hangouts Meet basically takes the consumer version of Hangouts and gives it a business-focused twist. It's also getting an update today, with support for recording meetings and saving them directly to Google Drive for later sharing, and the ability to host meetings with up to fifty participants involved. Dial-in support has been extended too, now covering more than a dozen markets.
However it's the hardware that's most interesting. Google is powering it with an ASUS Chromebox running Chrome OS, and connecting up three peripherals. First, there's a new touchscreen controller for managing both the setup of the Hangouts Meet session and how it runs mid-call. From there, you get the full calendar for scheduling, and the ability to pin or mute team members.
Plug in a laptop via HDMI, and you can screen share directly to the session. Meanwhile, Google's 4K camera has a 120-degree field of view, for getting even broad tables all in frame. Like the Pixel 2's cameras it relies heavily on machine learning, in this case to spot who is talking and automatically crop and zoom so as to frame them better.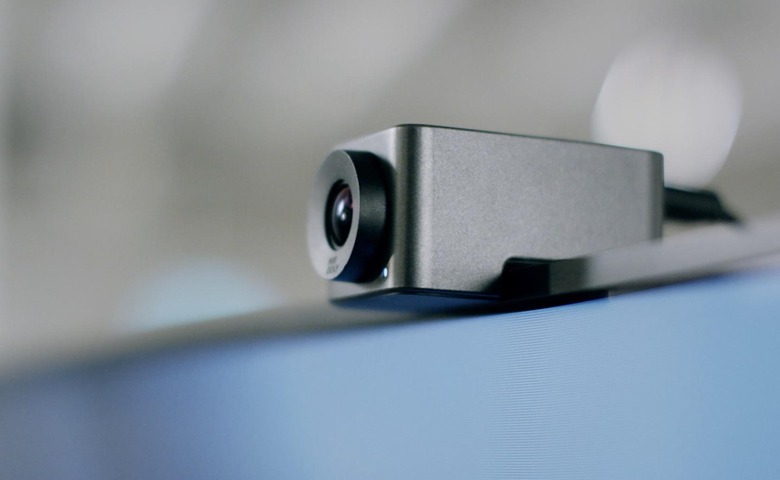 Update: The camera is the new Huddly GO, and it's actually quite interesting in its own right. As well as its wider field of view, it can also stream multiple perspectives simultaneously; it's not clear how much of that Google and Hangouts Meet is actually using right now, but Huddly says it has high hopes as developers get their hands on the tech. The sensor itself is 16-megapixels, and there's onboard software to correct color, perspective, and lighting.
The fourth and final part is the speakermic. Up to five can be connected simultaneously, to cover large spaces, all daisy-chained off a single cable. That has echo and background noise cancellation, too.
Part of Google's pitch is ease of management. The Chromebox itself is automatically updated from the cloud, but it can also automatically push updates to each of the other devices plugged in. There's Chrome OS' remote device monitoring and management, too, for security.
As you might expect, this is pitched at enterprise pricing levels. The Hangouts Meet hardware is available to order now, at $1,999. Meanwhile, Huddly GO will eventually be offered individually, priced at $499.