Google+ Hangouts Get "Bandwidth Slider" To Battle Skype

The team behind the Google+ video chat environment "Hangouts" has updated the system this week to work with internet connection speeds of all varieties. To attach to those that normally wouldn't be able to keep up with a video chat interface (be it Hangouts, Skype, or otherwise), the Google developers working with Hangouts have revealed two new features: a Bandwidth Slider and "Audio-Only mode." This means Google+ is ready to do not just video chat, but phone calls as well – almost as if Google Voice has come to visit!
With Google+ invading on not just Skype's territory here, but Facebook Messanger's as well, it's not surprising to see updates coming in faster and faster each month. Back when Google+ was first introduced, Hangouts were all but a whisper on the radars of their future competitors. Now it would appear that Google+, a social network of some note, is sending the message loud and clear: "we want everyone!"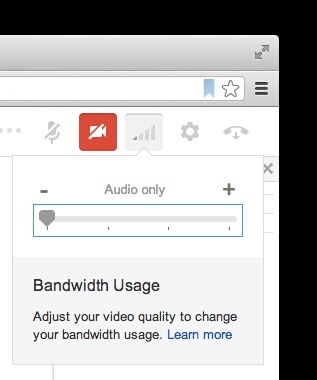 This update comes from Google developer Tim Blasi who writes specifically to those of you out there working with "low and/or unreliable connectivity." With the Bandwidth Slider you'll be able to literally push the quality of your video feed up or down for quality based on how powerful your web connection will allow. This will also be nice for those of you that want to video chat but don't need the top quality you're allowed.
With Audio-Only Mode you've got a one-button tap to take you out of the video game entirely. This button has you continue to speak in a group Hangout as you normally would, but with your profile image replacing what would normally be your video feed. Sound like a winning combination to you?
We've also this week seen an update for Skype for iOS that included automatic call recovery as well as instant messaging improvements. The war is getting hot right here and now! Have a peek at the timeline below to see what Google+ Hangouts has brought to the table over the past few months as well.
[via Google+]