Google grabs Jetpac team for image recognition smarts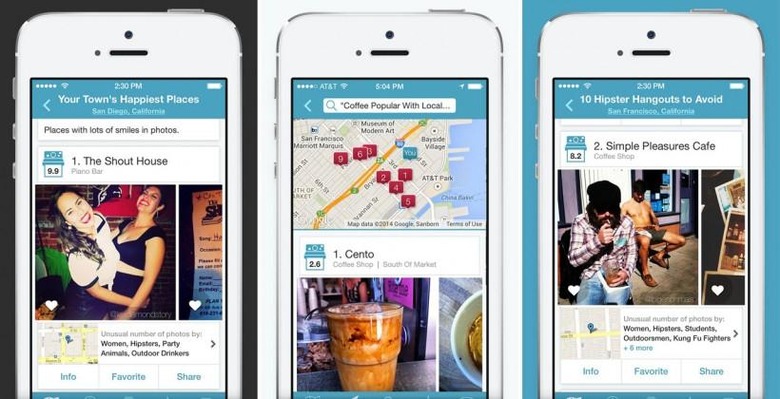 Google has snapped up the talent behind Jetpac, the iPhone app which used image recognition to figure out custom city guides based on Instagram photos shared publicly. The news is likely to mean an improvement in Google's use of automatic object tagging, though it's also the end for Jetpac's own app, which the company says will be yanked from the App Store over the next couple of days.
At time of writing, the Jetpac app was still available for download. However, even if you quickly download it now, the team says that support will be discontinued on September 15th.
Jetpac's system uses deep learning techniques to figure out over time how to spot pertinent elements in photos. For instance, by digging through publicly-shared Instagram photos that were location tagged, it could figure out the "scene" of a venue by the clothes and style of the people there.
So, Jetpac could tell you whether the bar you were thinking of going to was predominantly for hipsters, based on factors like how many mustaches it counted.
Top ten lists organized by their popularity among surfers, business travelers, students, wine lovers, foodies, music lovers, LGBT, jetsetters, and parents were all included. Over 6,000 cities had guides by the time Google came calling.
Financial terms of the deal have not been announced, and it's not clear exactly what Google will be doing with its freshly-acquired talent. However. given the search giant's existing work on photo recognition as well as location-based services – most recently adding Field Trip to Google Now – it's not hard to imagine how the team might fit in.
VIA The Next Web
SOURCE Jetpac