Google grabs Clever Sense for Siri-beating local recommendations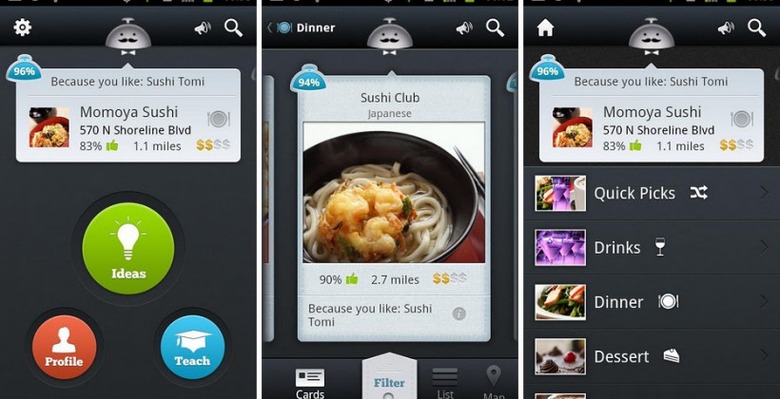 Google's Majel Siri-rival could soon be delivering personalized entertainment suggestions on Android smartphones, with the news that the search giant has acquired AI recommendations service Clever Sense. The software company produces Alfred, an Android and iOS app that promises to curate nearby restaurants and make suggestions it believes fits with the user's tastes, with a combination of artificial intelligence and machine-learning improving results over time. Clever Sense's team will join Google's local services division, though the potential for future Android integration is huge.
"Together with the Google team, we will accelerate our efforts toward this shared vision. Google helps local businesses connect with potential customers, and its worldwide presence can bring the value of Clever Sense to a much larger audience ... Discovering local information is extremely important to both users and businesses, and the acquisition of Clever Sense will benefit both" Clever Sense
One of Siri's most publicized features is its ability to find nearby places to eat, pick out those with the best reviews and direct you to them. With Clever Sense's technology, Google's rumored Majel alternative to Siri could not only pull up a list and filter it by general reviews, but use its learned knowledge about the user's individual tastes and preferences to make better suggestions.
However, it's planned developments on the Clever Sense roadmap that may have particularly whetted Google's appetite. On the cards were deal recommendations, similar to services like Groupon, as well as broadening the range of services that could be suggested, to include general local entertainment and more. Again, that would all be in line with the basics Apple offers on the iPhone 4S, only with the added benefit of AI learning individual preferences.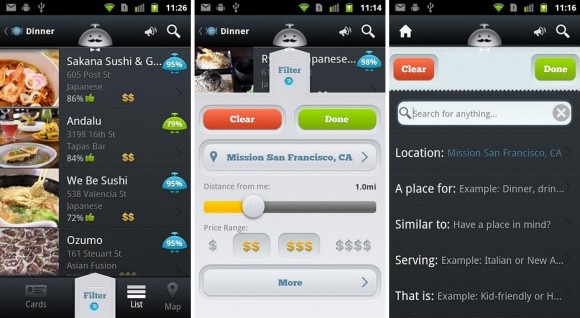 According to Google's official statement, Clever Sense "is at the forefront of developing a recommendation engine that connects the online and offline worlds by delivering personal and sophisticated information to users at the right time, the right place and within the right context." There's certainly plenty of scope for integration with existing services like Google Googles, for an augmented reality view on the world that's populated with tailored suggestions of activities and entertainment.
There's more on the company's so-called "Serendipity Engine" here, explaining how Clever Sense learns from app interaction, Facebook and Twitter use (and, we're guessing, eventually Google+ activity too). "By combining their technology and expertise with our team and products," the Google statement continues, "we'll be able to provide even more people with intelligent, personalized recommendations for places to eat, visit and discover."
Clever Sense "Alfred" Demo:
[via TechCrunch]