Google Glass reborn: Enterprise Edition gives reviled wearable 2nd chance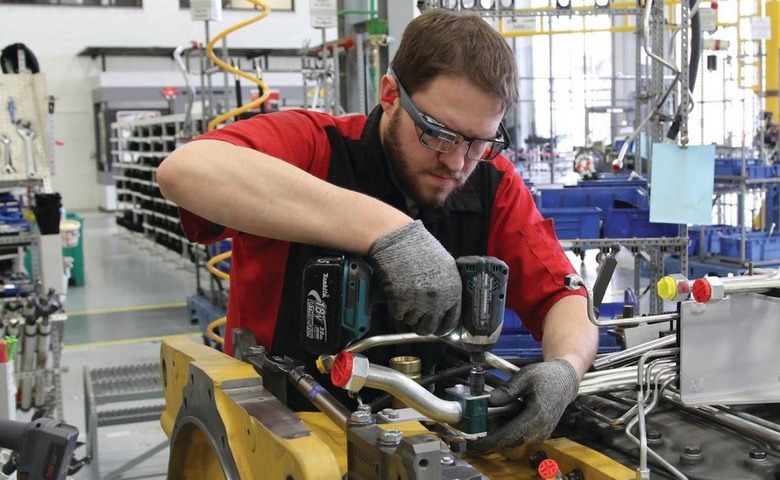 Google's ill-fated wearable, Glass, has been reborn for factory drones as Glass Enterprise Edition, now part of Alphabet's developmental X division. The new version of the headset has already been used in trials with a number of business customers, the team announced today, with a revamped version of the hardware and a new focus on making manufacturing, project management, and other enterprise tasks more productive. It's been enough to catch the attention of big names like DHL, GE, Boeing, and Volkswagen.
Glass launched with an even bigger fanfare than most high-profile electronics get back in 2012. After skydiving into Google I/O, livestreaming the whole stunt from his connected headset, company co-founder Sergey Brin showed off his vision of a perfect companion device. Glass, so the promise went, would bring the most important notifications directly to your eyeline; it would give you vital information about the environment around you and what you could explore in it; and it would allow you to capture a first-person view of the most special moments.
Most importantly, it would do that without demanding that you bury your head in your smartphone all the time. The geek-appeal, along with the severely limited supply of Glass headsets, saw hundreds put down $1,500 apiece. Yet, by the start of 2015, the Glass project was seemingly wound down. Critics cited its minimal battery life and potentially intrusive camera, but most importantly it wasn't entirely clear what Glass was for.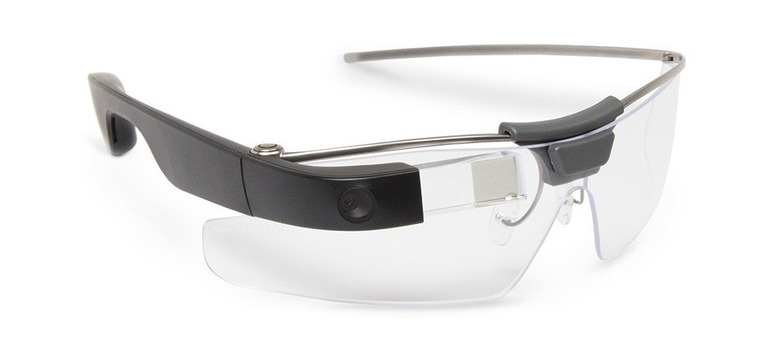 In reality, that purpose was far from the consumer audience Brin had wooed. While the public face of Glass went dark, in the background an Alphabet X team was working with enterprise clients on a more targeted implementation for a wearable. Such an audience, it turned out, could see value in a device that fell between traditional rugged handhelds and a new breed of augmented reality visors. In contrast, Glass Enterprise Edition – or Glass EE – wouldn't take up a hand, or indeed be prohibitively expensive if you wanted to outfit an entire production line of employees.
As you might expect, the specifications have improved since the consumer version. Battery life, one of the common criticisms of the first model, has been improved so that it'll last a typical 8hr shift, and Google says both the processor and the WiFi are faster. The camera has been bumped up from 5-megapixels to 8-megapixels.
Some of the most significant changes are technologically simple but ironically vital to how Glass is accepted in daily use. Most notably, there's now a red light that illuminates whenever the wearable's camera is active. The original Glass was strongly criticized for its potential to "creep-shot" people without them realizing, even if in reality it was probably easier to snap surreptitious photos with a regular phone.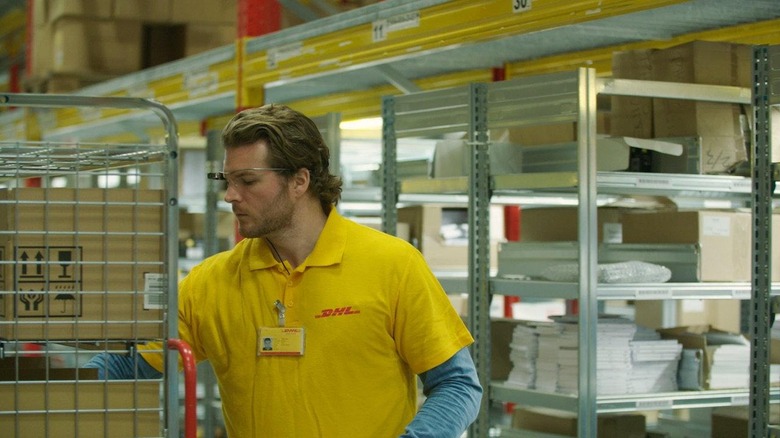 The mounting design has been reworked, too, Wired reports. Unlike the consumer version, which only embraced prescription frames – and even then only in a small range of Google-made options – late in its lifespan, Glass EE is intended to work with other eyewear. Press the camera button and the "Glass Pod" can be removed from the frame, and then be mounted onto OSHA-certified safety glasses and more.
Uses in enterprise include hovering animated instruction manuals and guides in the eyeline of GE Aviation mechanics, project lead Jay Kothari writes today. The company estimates efficiency has risen 8- 12-percent by allowing workers to ignore the traditional binders of instructions, while simultaneously cutting down on errors. Agricultural machinery specialist AGCO has been using Glass EE to manage progress checklists, view manuals, and send back photos and videos of the assembly process. AGCO says machinery production times are down by a quarter, while inspection times have been cut by 30-percent.
Enterprise customers, notably, have much deeper pockets than regular consumers, too. The going rate for a Glass EE is apparently between $1,300 and $1,500, presumably varying on the scale of deployment. Alphabet is throwing open the project to any company that wants to take part as of today, pointing to improvements in efficiency across manufacturing, logistics, and medical centers as evidence as to why they might want to consider the wearable.
How that might shape a second-attempt at the consumer market in the future remains to be seen, of course. In some ways, as augmented reality wearable rumors circulate around Apple and others, you could argue Glass Explorer Edition was ahead of its time. Really, though, the early success of Glass Enterprise Edition underscores one key thing Google forgot in the first place: if you want a gadget to succeed, it really needs to have a reasonable use-case.