Google Glass goes Go-kart racing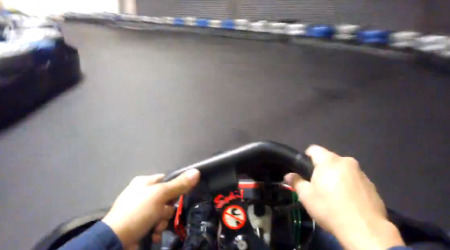 This week the Explorer Edition of Google's Project Glass is being delivered to intrepid developers all across the planet, and the unboxing videos and demonstrations have begun! What you're about to see is, at first, a single demonstration video filmed from the developer set. As more demonstration videos appear, we'll be capturing them here on SlashGear one by one!
First you're going to see Glass capturing a Go Kart Racer in Burlingame, California – straight from the head of the user. This video is captured from Google Glass' 5 megapixel camera and delivered at a cool 720p – make sure you turn up the quality of the video with the little gear in the lower right-hand corner of the YouTube rectangle. And don't get too queasy!
The above video was recorded by Matt Abdou – see more hands-on action now!
Google's Glass device will be delivered to the full set of over 1000 users in the public this week – while many more devices are out there in the wild, we're certainly not expecting the full limited edition series to be seeing action in the public. You can find a whole lot more information on the Google Glass initiative in our Google Glass tag portal and through the timeline below.
In addition to this, you'll find our own hands-on action with Google Glass coming up quick! We'll be kicking around our own set of Glass units when we're rolling with them in the coming weeks and months, and we'll be sure to bring you along with us the whole journey long! Make sure you stick with SlashGear for the long haul!