Google Glass Explorer edition video and photos hit the web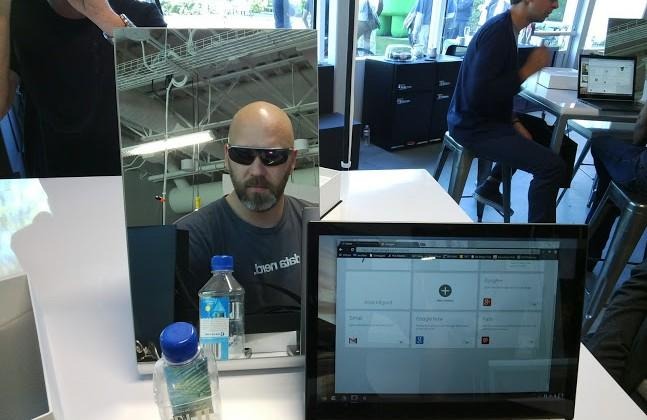 Yesterday we received word that Google Glass was hot off the presses and heading for shipping, and today Google+ is full of posts from the lucky few who are now in possession of their device. Unboxing pictures have surfaced, as well as a tidbit of info that navigation directions can be pushed from smartphone to Glass. And perhaps best of all, there's also a video recorded with Glass at the go-kart track, which we have after the jump.
Above is a self-portrait taken by Brandon Allgood using his Google Glass, which can be seen in so-called Terminator fashion on his frames. He also published a snapshot of the device in an unboxed pose, showing off both the frames and the various accessories, such as the micro USB cable and charging adapter. G+ user Arthur Van Hoff also has an unboxing album.
Following this is a video recorded by Matt Abdou using Google Glass at the go-kart track, which you can watch below. According to the device support pages that Google made public yesterday, Glass features a 5-megapixel camera sensor and can record video in 720p; don't forget to bump YouTube's video quality up to max to see the video in high definition.
And, finally, there's also the screenshot from Cecilia Abadie confirming that driving directions can be sent to Glass via the MyGlass app. We'll certainly be seeing more photos and such hit the web as more buyers receive their devices, but until then you can catch up on the latest round of news, such as Glass's specs and the Mirror API documentation and sample code.
Update: And here's an unboxing video, courtesy of Dan McLaughlin:
[via Engadget]