Google GDrive online storage & backup service leaked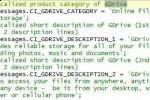 Further evidence suggesting Google is preparing to launch an online file storage service called GDrive has emerged, this time detailed in a file within the company's Google Pack.  Categorizing GDrive under "Online file backup and storage", it goes on to describe it as "reliable storage" for files and media that can be accessed from multiple devices including cellphones.
"GDrive provides reliable storage for all of your files, including photos, music and documents ... GDrive allows you to access your files from anywhere, anytime, and from any device – be it from your desktop, web browser or cellular phone" Google GDrive description
Mention of an online storage service under the Google banner was spotted earlier this month, in the latest distribution of Picassa for Mac.  More obvious than this description found among code, the Picassa reference was among the destination options under "Move to Collection".  There, though, rather than being referred to as GDrive, the service was called "Google Web Drive".
Google is yet to comment on the references, and remains tight-lipped on the prospect of a web-drive service.  It seems, nonetheless, an obvious path for the search giant to take; its GMail webmail service already offers users in excess of 7GB for their messages.
[via Pocket-lint]