Google Flights tackles travel fears: Here's 5 other ways to fly smarter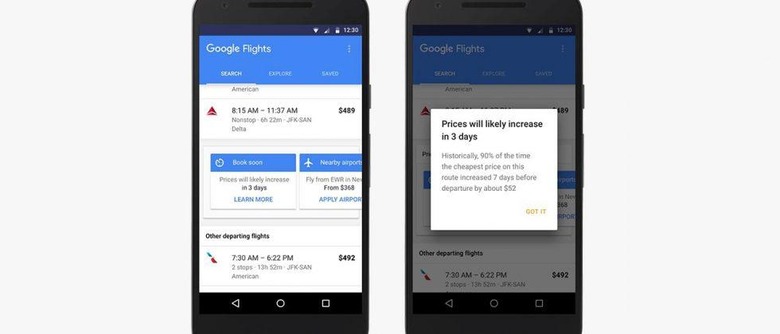 The holiday travel season is nearly upon us, and Google Flights is looking to make it a little less stressful. Google announced today that Flights will now let you know when prices are expected to go up for some routes and flights. This will happen when you select a specific flight – now, you'll be presented with a new card that tells you how many days or hours you have left until the price is expected to increase, and how much the price is expected to jump.
That feature should help quite a few holiday travelers relax during a usually stressful time. Google's efforts to save you money don't stop at specific flights, however. If you've selected a route but haven't picked a flight yet, Google Flights will now attempt to give you some money saving tips, such as pointing you toward different airports of suggesting different departure days.
Google Flights will now send out fare expiration and price increase alerts for tracked flights. On top of that, the new Explore tab lets you search for destinations based on a number of different filters if you're not sure where you'd like to go. Finally, Google Searches for hotels will not only let you know when there are member discounts available on a hotel's website, but you'll also be able to filter results by the deals that are available.
Of course, Google can only do so much when it comes to trying to make holiday travel easier. The rest is up to you. With that in mind, here are five ways you can fly smarter and ultimately make your holiday trips a lot smoother.
1. Keep your charger at the top of your carry-on
Don't be like me and think that throwing your stuff into a bag without any planning is an acceptable way to fly. Whether its a delay or a layover, the chances are high that you'll be waiting with nothing to do at some point during your journey. When that happens, your phone or tablet will likely be what you turn to in order to pass the time, so pack your charger in your carry-on last so it's easily accessible.
2. Don't travel with a Samsung phone for the time being
There's currently so much worry about Galaxy Note 7 batteries igniting that the United States Department of Transportation has banned them from all flights in the US. With this ban in place, it seems a bit optimistic to expect your airline to be able to tell the difference between a Note 7 and another Samsung phone.
Until the worry over the Note 7 dies down a little, it might be a good idea to leave whatever Samsung phone you've got at home. Planning ahead, in this regard, could save quite a bit of headache at a gate.
3. Bring a paperback book
I know this a gadget website and all, but one advantage a paperback book has over your phone, tablet, or notebook is that you don't have to charge it. For times when the outlet situation will be a little uncertain (like in a crowded terminal or on a plane), a paperback book is hard to beat.
4. Pack a change of clothes and travel-sized toiletries in your carry-on
Lost luggage is just a reality of flying. If it hasn't happened to you yet, consider yourself lucky but assume you're living on borrowed time. When it does happen, having a change of clothes and a few other essentials in a your carry-on can take some of the edge off an otherwise very stressful situation.
5. Invest in a good pair of noise-cancelling headphones
If you're going to be making a yearly thing out of holiday traveling, buying in a good pair of noise-cancelling headphones is one of the best moves you can make. Families will be traveling a lot over the holidays, and an alarming number of them will have small children. Ditching the earbuds and getting some noise-cancelling headphones will seem like one of the best decisions you've ever made when you're stuck at cruising altitude with loud, obnoxious kids.
SOURCE: Google