Your Galaxy Note 7 is no longer free to travel about the country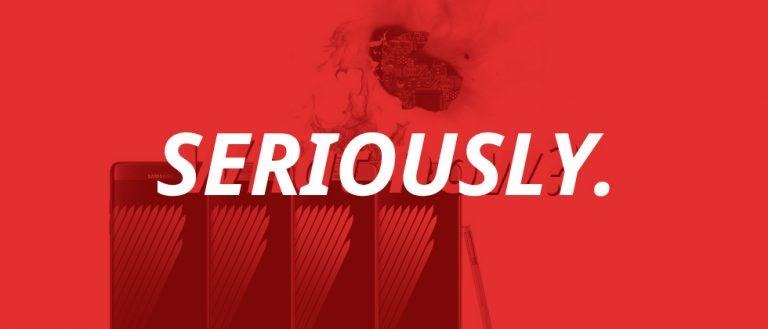 The Samsung Galaxy Note 7 is now banned on all domestic airline flights by the United States Department of Transportation. Samsung has issued a statement making it clear that the Galaxy Note 7 is 100% banned on flights under any circumstances. Samsung seems to be working with the USDOT on this matter, sending a statement out to news sources and Samsung customers this afternoon.
"Samsung, together with carriers, is working to communicate the U.S. Department of Transportation's new order to ban all Galaxy Note7 devices in carry-on and checked baggage on flights," said the official Samsung statement. "We have encouraged airlines to issue similar communications directly to their passengers. Any Galaxy Note7 owner should visit their carrier and retail store to participate in the U.S. Note7 Refund and Exchange Program now. We realize this is an inconvenience but your safety has to remain our top priority."
Airlines of all sorts inside the United States have posted warnings about the Samsung Galaxy Note 7 at boarding gates. Warnings from airlines about the Galaxy Note 7 posted thus far ring rather similar to the statement provided by Samsung above. This USDOT banning places the Galaxy Note 7 under the Federal Hazardous Material Regulations restrictions list for forbidden hazardous material.
This is just the latest in a line of bans done on the Galaxy Note 7 over the past few weeks. Early September started the real talks about the device having a possible ban on flights, and the last week put the cap on the end of this saga for end users.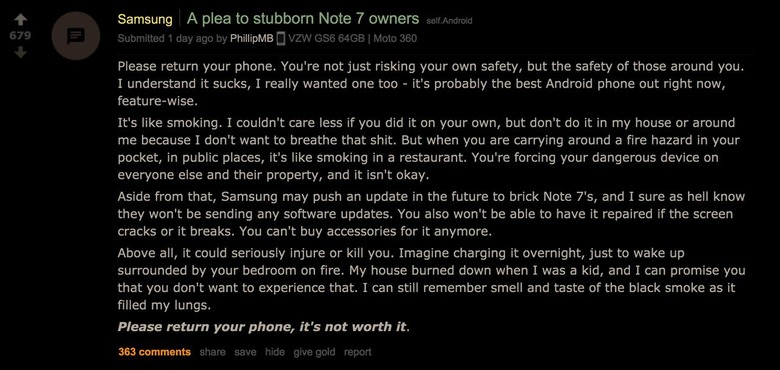 Samsung's own Phillip Berne took to Reddit this week to send a plea to "stubborn Note 7 owners". "Please return your phone," said Berne, "You're not just risking your own safety, but the safety of those around you. I understand it sucks, I really wanted one too – it's probably the best Android phone out right now, feature-wise."
Above is the full message as posted to the Android subReddit on Reddit this week by Berne. This is one of many such pleas with the public for the return of the Galaxy Note 7 for the safety of all users. SlashGear has its own, too – have a peek at the timeline below for more.