Google Earth 3D Next Dimension update video wows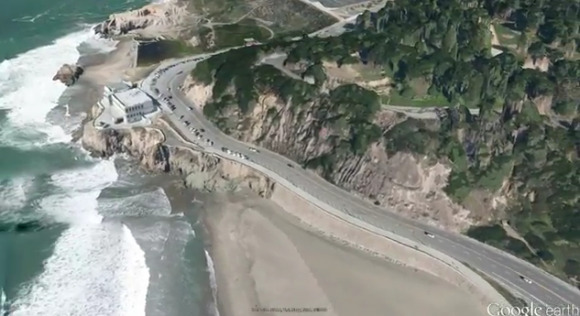 This week the Google Maps team has shown off what they've been working on for some time with their brand new 3D enhancements to Google Earth, this part of "The Next Dimension" event they held earlier today. What we saw, and what you're about to see in video form, is how Google is hoping to keep the vast majority of the world spellbound by their technology with a level of realism we've not yet seen in a mapping program. Have a peek at what some are calling "The GTA of Maps" in the following clip.
This new mapping enhancement will be hitting Google Earth sooner than later, this getting the Google Maps world prepared to explore the earth in a dimension only available to us via a real live airplane in the past. The process Google has gone through to create this vision for the future actually did (and continues to) use airplanes flying back and forth across your city in a pattern that's carefully calculated and placed against models of the city they've photographed. This system creates what you see here:
This process brings you entire 3D cities from a 45-degree set of ariel photographs. You'll soon be able to explore the world in this way across entire metropolitan areas with an app called Tour Guide as well as (and also inside) Google Earth. As Google continues to push each of their Maps programs together, we'll get closer and closer to a 100% reproduced to-scale image of the earth so we'll no longer have to leave the house to see the planet. Sound good?