Google Chrome OS "Student package" notebook for $20 tipped imminent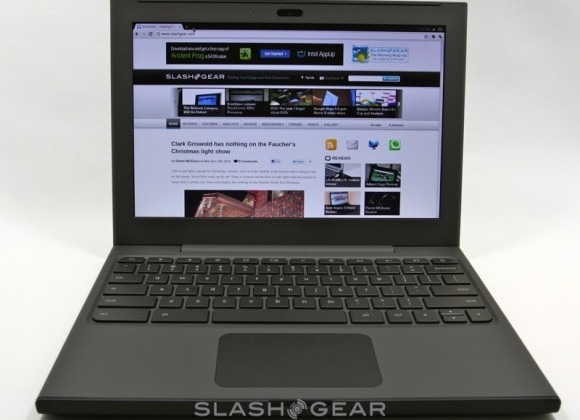 Google IO day two doesn't kick off for another nine hours or so, but it seems the search giant may not have revealed all its secrets in the jam-packed first day. According to a Forbes report quoting an unnamed senior Google exec, the company is readying a Chrome OS based notebook launch which will be positioned as a "student package", offering both hardware and cloud services for $20 per month.
It's said to be "almost certainly" the forerunner to a similar enterprise deal, with Google looking to take on Microsoft's Sharepoint and Office with a hardware component to its existing Google Apps for Enterprise. That currently costs $50 per year, but according to the Google exec it makes perfect sense to add a Chrome OS notebook deal to that. "Small and medium-sized businesses are banging on our doors to get something like this" he claimed, with enterprise believed to be tempted not only by the low pricing but by the controls over functionality and usage made possible by Chrome OS' browser-based nature.
As we saw with Google's first Chrome OS notebook, the Cr-48, the platform certainly has its successes – and its fair share of shortcomings. Those looking to do more than the text editing, browsing and multimedia playback basics might find Chrome OS to be too limiting – it's certainly not going to be the platform for downloading dozens of torrents using your school's high-speed connection, not that SlashGear would condone such wickedness anyway – but for those wanting to get online with minimal initial outlay then it could prove very popular.
SlashGear is at Google IO this week and will be bringing you all the details from the second day keynote. We're also giving away a Samsung Galaxy Tab 10.1 in our Epic Unboxing showdown!