WIN a Samsung Galaxy Tab 10.1 by Judging our [Epic Unboxing War Number One!]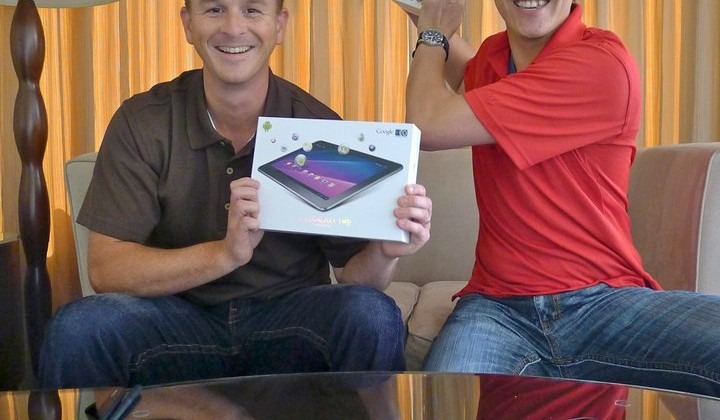 Behold the most excellent unboxing and hands-on video you'll ever experience, ever, your entire life. The video you're about to see has two major players, Ben Bajarin representing Android Community and Vincent Nguyen representing SlashGear, who will for your enjoyment both unbox the Samsung Galaxy Tab 10.1 at the same exact time. In this video they both show you exactly what's going on with the tablet in fair detail. Which unboxing is better? That's for you to decide – and that's how you'll be winning your very own Samsung tablet in the very near future!
That's right! You've got these two contestants to choose from:
Android Community represented by Ben Bajarin – in Brown – in the Left Corner!
VS
SlashGear represented by Vincent Nguyen – in Red – in the Right Corner!
The winner will be determined by YOU judging based on the following criteria:
• Speed
• Content
• Overall Quality
Your words will then in turn be judged by us, the teams of SlashGear and Android Community, determining then who is most worthy of the single prize: a Samsung Galaxy Tab 10.1 of your very own. This contest will be held on our [Facebook wall], the place where you'll be putting up your words of judgement – it is there that your submission will be counted, and only there!
NOTE: Your submission must contain a few sentences at LEAST on why you chose [Ben for AC] or [Vince for SG] on our Facebook wall, and also link back to this post. The reason we want you to submit your vote with a link back to here is so we can keep the contest running as long as we can. And we want Vince to win, right? Right!
The contest runs from the moment this post is posted until June 8th when the device will be officially available for purchase. The winner will be listed both here and on Android Community (one winner only, mind you,) and on each of our respective Facebook pages.
Behold, the video!
[vms c9f30cecb34f0c195b13]
And see the extended rules below – the same contest is being run on Android Community and there is ONE PRIZE between the two sites. Read the extended rules below, and get to entering!
Contest begins May 10th, 2PM PST, and ends June 8th, 2PM PST, 2011. A winner will be announced within a few days of June 8th here in the main news feed and at our official Facebook page.

WINNERS will be given the opportunity to submit a review of their Samsung Galaxy Tab 10.1 and have it posted on the front page of AndroidCommunity.com or SlashGear.com! *Reviews may be edited or modified before publication and are considered works for hire under the 1976 Copyright Act. Submissions will be ineligible for payment or remuneration.

Competition is open to residents of the US over the age of 18. One entry per contest per person. Family members of Google and SlashGear/Android Community are not permitted to enter. Competition entries are only accepted via the specified Android Community or SlashGear Facebook page; entries left in the comments section of this or any other post will not be recognized. One entry per person (and yes, we check). Winners of any SlashGear or Android Community contest over the past year are no eligible to win.

The winner will be announced on SlashGear and Android Community and will be expected to contact us via the following email: chris@androidcommunity.com ; they will be expected to respond within 24 hours else their prize may be forfeit and another winner selected. Editors decision is final and no correspondence will be entered into. Winner agrees that their name and details of their entry may be used for promotional purposes by, but not limited to, SlashGear and Android Community.

Prize consists of one Samsung Galaxy Tab 10.1 Android tablet between SlashGear and Android Community. One prize per winner. There is no cash alternative or any other alternative for prize winners unless this prize should become unavailable, in which case Android Community and SlashGear reserve the right to substitute another prize of equal or greater value.

Contest provided by SlashGear/Android Community. Prizing provided by SlashGear/Android Community. Any questions regarding this contest should be directed to chris@androidcommunity.com.