Google Chrome Event Re-Cap And Analysis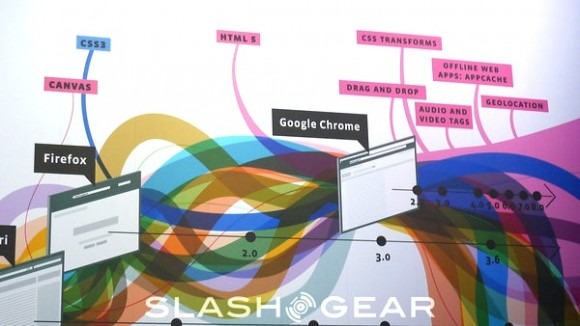 Google's Chrome team had a lot to share with the public today at an event they held in San Francisco.  They shared how now there are 120 m consumers who use the Chrome browser to surf the internet.  They also announced that with Chrome 8 the browser is no, thanks to a new technology called "Crankshaft" is now the fasted web browser on the market.
Two of the biggest announcements was the official launch of the chrome web app store and a public beta of their Chrome OS which included showing off a reference Chrome notebook called CR-48.
Chrome Web Store
The Chrome Web Store was announced by Google at their 1/0 conference earlier in the year.   Officially it was made available to the public today and I fully anticipate it to be well received.  The Chrome Web App store at the very least will move HTML 5.0 forward leaps and bounds as developers create unique and new experiences with their web content using this new technology.  The main goal of the Chrome store is discoverability.  Google anticipates the future of the web and websites to feel more like a native software application then a website.  With a store focused on these web apps Google hopes to make the discovery process of new web content and applications simple, similar to current app stores today.   In the grand scheme of things though the Chrome web store is set up to pave the way for Google's Chrome OS.
Chrome OS
Much has been said and written about regarding Chrome OS yet not much has been seen to validate it as a real product.   Today Google changed that by showing off a Chrome Notebook reference design named CR-48.  Products that ship with Chrome OS Google claims will be the most secure consumer devices on the market.  Google outlined at length the security innovations they developed that makes their Chrome operating system the most secure on the planet.  In essence this claim is made possible because of the way the OS is tied to the hardware making data encryption at the hardware level possible.  Chrome notebooks will in essence gets its security because of this and apps that run on Chrome OS will be more secure then apps that run on the browser.
Tying software security to the hardware is nothing new and is part of the reason Intel bought McAfee.   Apple should also get credit for their security strength as well and is only accomplished by making both the software and the hardware.
Where is it all going?
Google makes a very valid case for cloud app and cloud app computing.   The on stage demonstration by Citrix who provides secure enterprise software as a service, running in Chrome browser and Chrome OS was very telling about where cloud based applications can go.  It is still a little early for us to write off native applications however it is true that there is very little you can't do in the web that you can do with a native application.
The fact that HTML 5.0 will be moved forward because of these efforts is perhaps one of the most exciting outcomes.  HTML 5.0 will do a great deal to bring the web in a new way and to new devices in a way that was not possible before.   It will be exciting to see how the future of the web evolves and Chrome browser and OS will hopefully spur the kind of web based innovations that can drive that evolution.