Google Chairman Eric Schmidt's Full MWC 2012 Keynote Video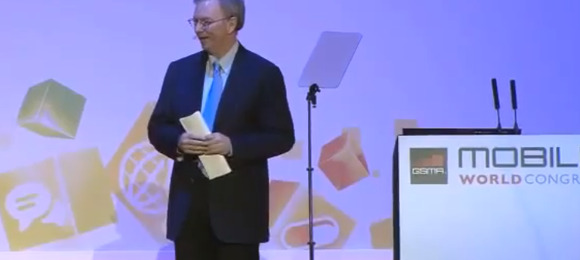 During Mobile World Congress 2012, Google chairman Eric Schmidt gave an exceptional keynote that touched upon Android, Chrome, the state of the mobile world today as well as how the developing world will be affected by connected technologies in the future. And, he threw in some odd bits about personal robots. Well, now you can watch the entire keynote presentation for yourself as Google has posted the hour-long video on YouTube.
Schmidt started the presentation with Android's Hugo Barra talking about the new Google Chrome for Android release, proclaiming Chrome to be the safest browser available. Regarding the developments on Android, Schmidt said that he didn't mind Android "forking" by manufacturers, as he felt consumer pressure would ultimately push OEMs towards Google's services.
He also went in depth about the state of the world and his vision that a "Global Community of Equals" would emerge due to technology and the spread of internet-connected devices. There was also talk about personal robots in this future he envisions, where the robots would represent a person remotely and let them see a 3D visual feed.