Google buys Boston Dynamics for terrifying robot expertise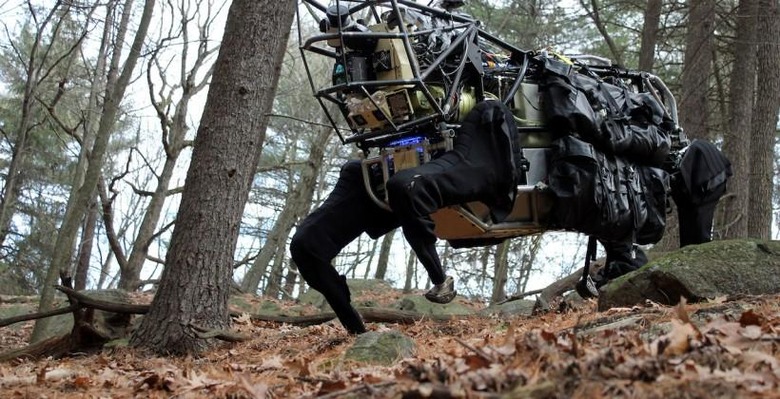 Google has acquired robotics engineering firm Boston Dynamics, known for its animal-like BigDog, WildCat, Cheetah, and Atlas robots, as former Android chief turned Google-robot lead Andy Rubin increases the search giant's "moonshot" efforts into the field. The deal was confirmed late Friday, the NYTimes reports, and will see Boston Dynamics continue its existing military contracts; according to Google execs, however, the company has no plans on becoming a military contractor on its own. Instead, it looks likely that projects like the DARPA Robotics Challenge are more in Google's sights.
Boston Dynamics is already taking part in the competition, run by the Defense Advanced Research Projects Agency, a division of the Department of Defense. The company provides two Atlas robots – which MIT memorably unboxed earlier this year – to take part, as part of a push to develop more capable, autonomous 'bots that can be deployed in disaster areas and other inhospitable terrain.
"Competitions like the DARPA Robotics Challenge stretch participants to try to solve problems that matter" Google's Rubin said in a statement about the acquisition. "We hope to learn from the teams' insights around disaster relief."
Rubin is heading a new division within Google focused on pushing robotics and AI technology. Boston Dynamics is the company's eight robot specialist acquisition in the past six months, and perhaps the highest profile; founded by 1992 by former MIT professor Marc Raibert, it has become known online for its eerily lifelike robot "animals" that, while powered by hydraulics and gas engines, nonetheless move with the same grace and agility as their biological counterparts.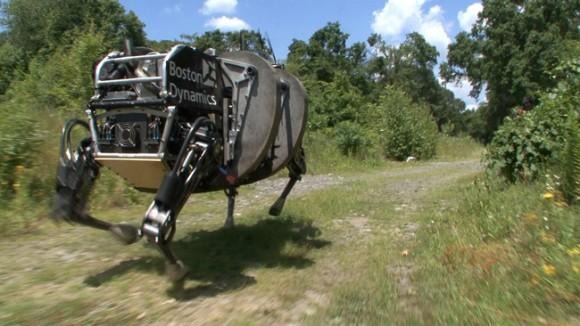 That focus is, Boston Dynamics has said, because animals are a sound model from which to develop robots that can handle the sort of dynamically changing, potentially challenging terrain that traditional wheeled or tracked robots struggle with. BigDog, one of the most famous of the company's machines, can not only navigate through snow and ice on four legs, but remain upright even when kicked at.
More recently, a newer, smaller robot called Wildcat was shown galloping at up to 16mph. Boston Dynamics' Cheetah robot is capable of up to 29mph, faster than humans can run.
Google refuses to say what it spent on Boston Dynamics, and continues to decline to comment on its outlay on robotics firms in general over the past few months. Meanwhile, Rubin has been vague about what the company intends to do in general with the technology and specialist his team is accruing, though has dropped hints that Google hopes to see some outcome from the project sooner rather than later, unlike some of the firm's more outlandish schemes.
"I am excited by Andy and Google's ability to think very, very big" Raibert said of the deal, going on to highlight the search company's significant financial resources. Google's other acquisitions span the gamut from computer vision specialists through to highly precise robotic arms.
One possibility that has been raised is some sort of autonomous worker robot, which could be deployed semi-intelligently into warehouses or even deliver packages, perhaps like a ground-based version of Amazon's PrimeAir drone delivery scheme. Alternatively, the robots could be aimed at the home market, intended as educational tools or to keep elderly or disabled users company, in addition to monitoring their health. As well as the more terrifying robots Boston Dynamic is known for, the company also collaborated with Sony on the ill-fated AIBO robotic dog companion which was discontinued in early 2006.