DARPA Robotics Challenge Atlas Robot unboxed by MIT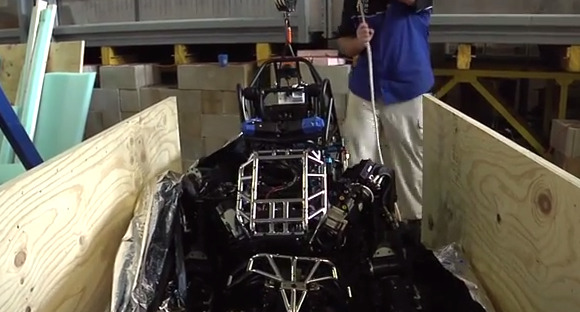 If you thought the unboxing of the DROID Ultra was amazing, you'll need to sit down to watch the unboxing of the Atlas robot provided by DARPA to MIT. This robot is a humanoid piece of machinery made to work on developing next-generation solutions to dangerous situations where a human-sized being is needed, but it'd be much safer to use a robot. This is all part of the DARPA Virtual Robotics Challenge initiated earlier this year.
This robot is he same one you may have seen in virtual reality simulations posted by MIT – and a set of similar challengers – in preparation for the real-life executions that'll be happening now that the hardware has been delivered. The Massachusetts Institute of Technology is just one of 9 final entrants to be woking with this beast of a robot.*
*That is to say, these teams will be using this robot, while at least a couple of them have donated their prize to alternate teams due to their already having funds to purchase their own – kind of them!
You'll find the packaging for the box to be relatively straightforward and simple – not a whole lot of protection for this robot in the end. This Boston Dynamics-built robot shouldn't need too much help being safe, after all: it's made to withstand punishment. While you'll not gain an especially in-depth set of details from run-down this video delivers, you will see how well put-together the whole thing is.
Now we have only to wait for the folks at MIT (and the rest of the challengers) to bring forth their experiments and on-site testing in kind. The final challenge – the "DARPA Robots Trials", that is – will be taking place December 20th and 21s. Stay tuned as we watch this set of challenges unfold!