Google boosts mobile answers for phone and tablet users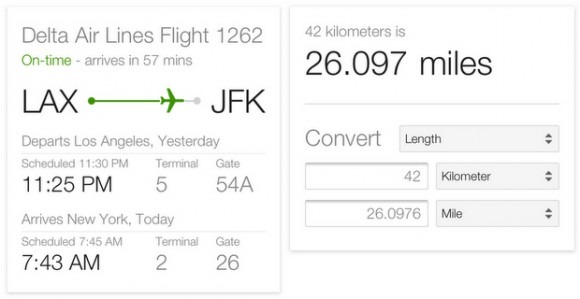 Google has updated its mobile search system, introducing Google Now-style data boxes into results that show contextual information such as flight schedules, conversions and a scientific calculator. The new layout builds on existing context services – such as Googling for "600 GBP in USD" to get a currency conversion – with a clearer UI, as well as allowing more straightforward tweaks to the results.
So, rather than requiring a new search whenever you're converting currencies, measurements or other numbers, the results box now includes drop-down menus for common choices. Straight sums now get presented in a functional calculator, while flight progress is shown not only with scheduled and estimated times of arrival and departure, but a distance bar for an at-a-glance interpretation of whereabouts the plane is.
There are also changes to the dictionary definitions, local time lookup, and holiday and sunrise times, and the new layout is rolling out for Google.com English-language searches on smartphones and tablets. International users, as well as those using Google on the desktop, will get the changed UI soon too, the company says.
The tweaks are the latest in a number of new search modifications Google has made in recent weeks. Yesterday, Google announced it was trialling integration of Gmail messages into personalized search results, while the Google Knowledge Graph will bring more contextual results to desktop users.