Google Alfred killed in latest location-services cull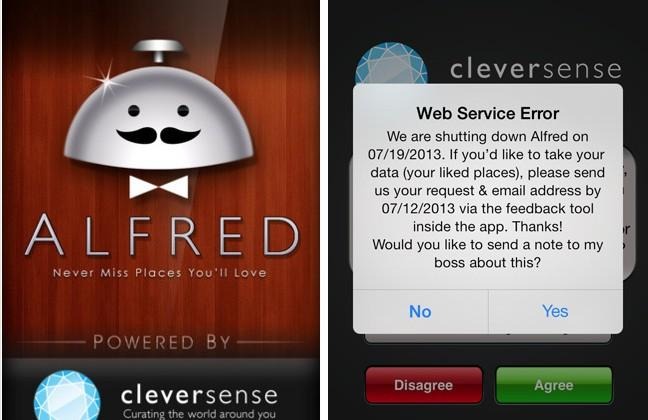 Google's Alfred local recommendations app is to be shut down within days, the company has quietly confirmed to users, with users only having until the end of play today to extract their data. The notification of the July 19 shut-down was flagged up in the Alfred app itself, TechCrunch reports, and comes around 18 months after Google acquired the app as part of its Clever Sense buy in December 2011.
Alfred was part of an attempt to curate local places of interest – whether restaurants, bars, clubs, or cafes – based on places the user had previously visited. The app used Clever Sense's homegrown recommendations engine, which integrated machine-learning and artificial intelligence to improve its suggestions over time.
However, Alfred also had bigger ambitions, at least at the time of Google's acquisition. Deal recommendations were the most obvious cash-generator, similar to services like Groupon, along with plans to broaden the range of services that could be suggested, to include general local entertainment and more.
At the time, Google was seen as being keen to integrate Alfred's AI into Android services, and indeed the presumed goal was to bake Alfred into Google Now – then unannounced, and known by its "Majel" codename.
However, in the intervening period it's hard to see what benefits Google has taken from Clever Sense's technology, at least on the face of things. The Alfred app has languished without an update for more than a year, and according to TechCrunch's digging the team looks to have gradually shifted from its initial position at Google Places, to other areas of Google.
It's not the only location-based service that Google has given its marching orders. Earlier this week, the company confirmed that Latitude, which allowed friends and family to share their locations with each other, had only a month to live. Instead, the check-in and location-sharing feature is being baked into Google+.