Goldman forecasts Apple Watch domination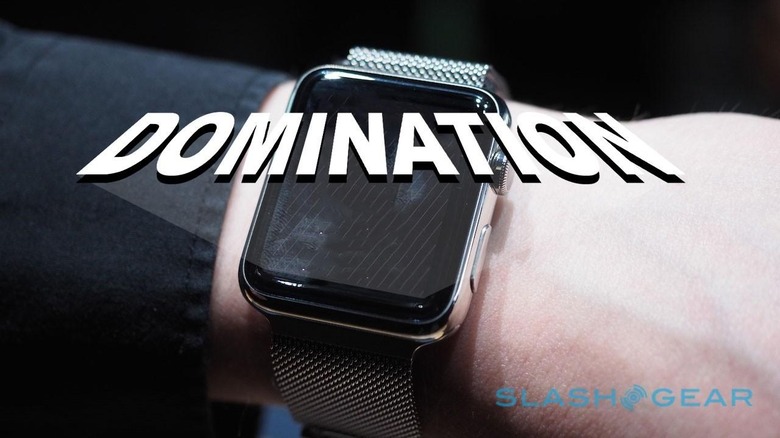 Goldman analyst Lindsay Drucker Mann and her team of analysts have conducted a survey of 1,000 US consumers over the two days after Apple opened preorders for the Apple Watch. In their study, they found that while most respondents didn't plan on purchasing any smartwatch at all in the future, 11% of all iPhone users suggested it was "very likely" that they'd be buying an Apple Watch. Because of this, Goldman forecasts 13.5 million Apple Watch units will be sold inside the year 2015.
In the year 2016 – presumably when another new Apple Watch is revealed and released – Goldman suggests 23.8 million units will be sold. We've reached out to Goldman for clarification on whether this means ALL units, or this many units in the year 2016 alone.
According to Canalys, around 270,000 Android Wear watches were sold in the year 2014.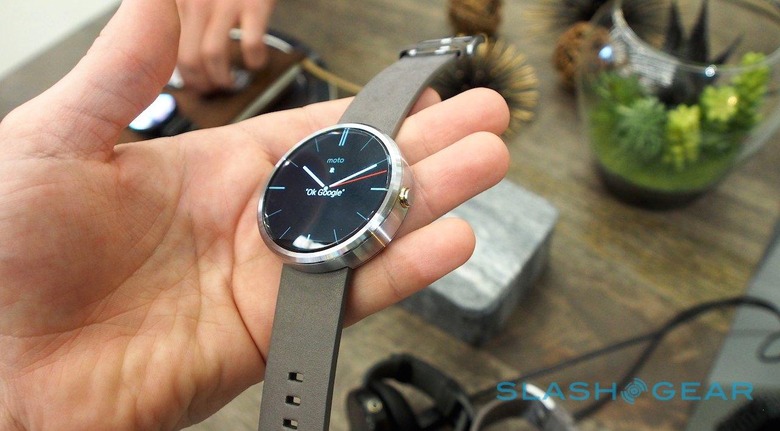 Speaking earlier today to Bloomberg, Lindsay Drucker Mann suggested that this survey was conducted on over 1,000 "nationally representative consumers," and that their results show "encouraging initial demand."
Of all respondents, 25% suggested they were in any way interested in purchasing a smartwatch. This includes the 5% that said they'd "very likely" be buying an Apple Watch and the 12% that said they were "somewhat likely" to buy an Apple Watch.
Just 8% suggested that though they were interested in buying a smartwatch, it'd be a smartwatch made by a company other than Apple.
A cool 75% of respondents suggested that they were not likely to buy any smartwatch at all.
Of iPhone owners, just 57% suggested they were "not likely to buy any smartwatch," suggesting the hype is real, one way or the other.
Goldman also split up results of those that were both iPhone users and "very likely" to purchase an Apple Watch within the year 2015.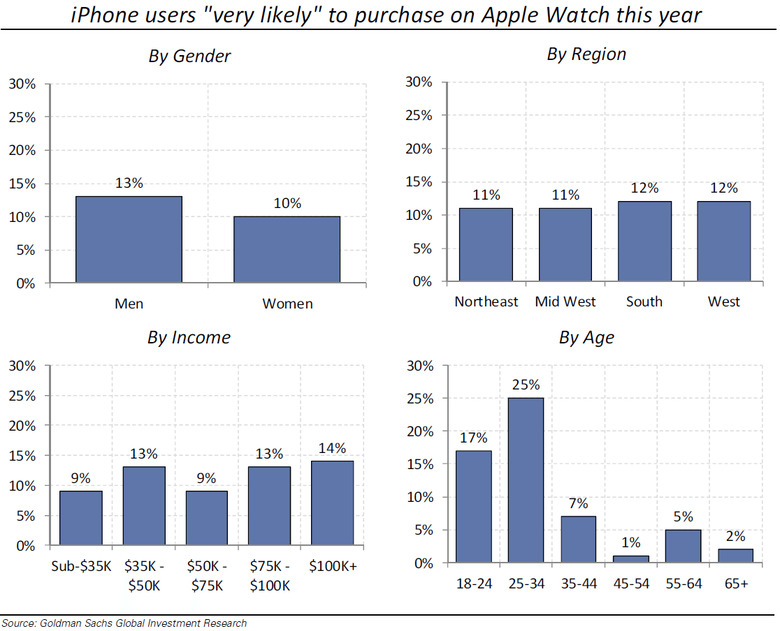 What you won't see here, in chart form, is Goldman saying how "regular watch wearers are among the most likely to order an Apple or other smart watch, suggesting high displacement rates for traditional watches from smart watch adoption."
This rolls well with what Jony Ive is said to have suggested of Swiss watchmakers once the Apple Watch is released. Suggesting they'd be having a difficult time keeping up, he said, in so many words.
Goldman suggested that those likely to buy a smart watch "most often indicate" one of the following brands as "watch brands they wear today": Fossil, Seiko, Casio, Rolex, Timex, and TAG Heuer.