Gmail VoIP testing tips Google's Chrome OS Voice plans?

Google are apparently trialling a system whereby their Google Voice VoIP app is integrated with the web-based Google Chat IM service within the Gmail interface.  According to CNET's sources, the new VoIP system is built into the existing Chat UI and allows for ingoing and outgoing calls without any locally running software.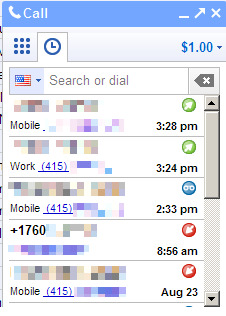 Interestingly, that would appear to fit in with rumors from back in July, which suggested Google founders Larry Page and Sergey Brin froze development of a standalone desktop Google Voice softphone.  Sources had suggested that the pair were unhappy with the idea of software that ran outside the browser, and hence would not fit into their concept for web-centric OSes like the upcoming Google Chrome OS.
This new web-based app, however, would allow Chrome OS notebooks to make VoIP calls with the Google Voice service, and presumably be platform agnostic.  According to CNET, the app is still somewhat distinct from Google Voice at this stage, with users not required to have an account with the existing service; the screenshots they've been provided with show a free US/Canadian call offer for 2010, and "insanely low rates" for international calls.  Google, meanwhile, would only say that they are "always testing new features and products" but that they "have nothing specific to announce right now."