Google Voice Desktop app leaks, gets video demo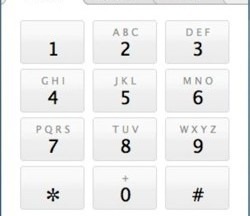 A version of Google Voice Desktop has leaked, the softphone client for their Google Voice service that's based on the Gizmo5 technology acquired back in November 2009.  TechCrunch had been pestering their sources for screenshots of the app and instead were sent the software itself; as you might expect, it basically allows you to make voice calls through your Google Voice number from your PC or Mac.
Google were reportedly testing the app in-house earlier in 2010, but last month leaks suggested that the company had put the software project on hold and potentially scrapped it altogether.  According to the sources, Google founders Larry Page and Sergey Brin were unhappy with the idea of software being developed that would run outside the browser.
Video demo after the cut
As the demo below shows, the app does exactly what it promises to: make voice calls.  It's not exactly the most aesthetically pleasing software, but then based on the Gizmo5 branding it doesn't look like Google has done much to redesign the visible elements so far.  Both inbound and outbound calls are supported, and the desktop app shows up as another phone option in the Google Voice settings.