Gmail updates for iPhone 6 and iPhone 6 Plus displays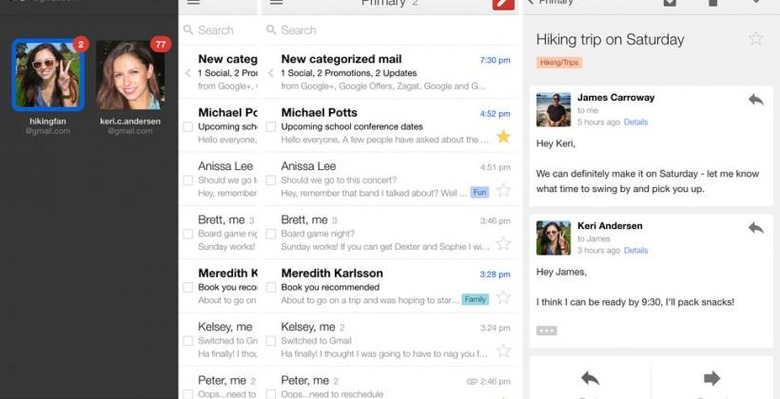 Sometimes it's the little things that make a big difference, like apps that take proper advantage of the extra screen real-estate of the iPhone 6 and iPhone 6 Plus, so consider it welcome news that Gmail has updated for iOS 8. The new app – with the tongue-in-cheek version number of 3.1415926 – answers the big, lingering complaint Gmail users had since the new Apple smartphones were launched, namely that the scaling was still intended for a 4-inch panel. Now, though, you get far more on your screen than you did before.
Previously, the enlarged UI would show only around six messages in the Gmail inbox at any one time. Following the update, however, on an iPhone 6 you now see 7-8 emails in the inbox, while on an iPhone 6 Plus you get space for 8-9.
Otherwise, the app is effectively the same as it was before, supporting up to five Gmail accounts. Still no sign of actionable notifications, however, the feature in iOS 8 whereby you can pull down the notification shade and quickly respond to an alert.
Also missing is a unified inbox, something iOS users have been requesting for some time. Instead, you have to flip between accounts rather than see all of the messages aggregated into a single view.
Still, we'll take what improvements we can get, and with Gmail being the go-to email service for so many people it's a nice escape from the oversized UI of the old version.
There's more on iOS 8's changes in our full iPhone 6 and iPhone 6 Plus review.
SOURCE iTunes