Gmail bakes in Google Drive uploads for attachment boost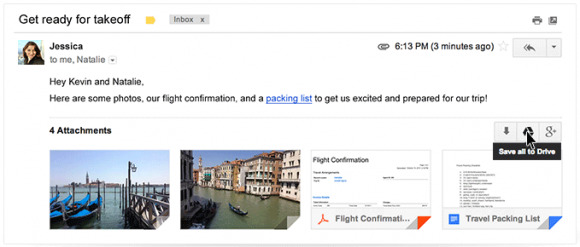 Google has fully baked Google Drive integration into Gmail, aiming to circumvent traditional attachment downloads by saving them straight to its chunk of cloud storage. The functionality, Google says, effectively bypasses the usual download/upload routine of receiving email attachments and then storing them to the cloud, with a one-click shuttling from email to Drive and the ability to instantly preview them in the browser.
Previews of attached files are now shown at the bottom of each email, including thumbnails of PDF, presentation, spreadsheet, and document content. Clicking on them opens up a full-screen preview window, with support for searching documents as well as flipping through multiple attachments.
However there's also a new Drive button that appears when you hover over an attachment: clicking it allows for a pre-existing folder to be selected or a new folder created. Alternatively, a download-to-computer button allows for local saves, as before.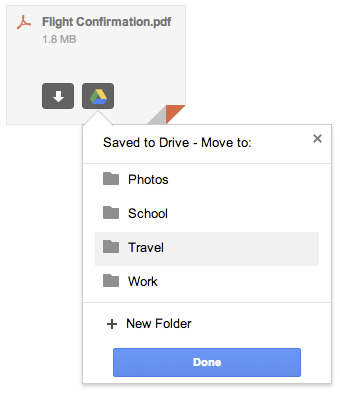 Google has been giving Gmail a functionality buffing over the past couple of months, most recently before this adding in more quick-action buttons to subject lines in the inbox view. These allow you to do one-clikc tasks like RSVP to a meeting invite without actually having to open up the email.
The new Google Drive integration into Gmail will be rolling out to users of Google's email service over the next week, though only on desktop for the moment. The company says that it currently has around 120m active Drive users, though there's no indication of how many of those pay to expand the free level of storage the company offers.