GM confirms Corvette C7 even more powerful than first promised

Drivers of the 2014 Corvette C7 Stingray will get a little more grunt than they expected, with GM confirming that the car's LT1 6.2-liter V8 is in fact good for up to 460HP and 465lb-ft of torque. Back when the striking two seater was first unveiled in January, GM estimated its power as coming in at around the 450HP mark; the new Stingray is good for a sub-4s 0-60mph time.
Although the LT1 might be good for 460HP, the Corvette Stingray itself will be SAE-certified at a little less: 455HP and 460lb-ft of torque, when outfitted with the standard exhaust system GM offers. Still, that'll nonetheless be good for 26mpg in highway driving, though we'd expect that to take a significant hit if you drive it like it's meant to be.
The 2014 car also sees some new engine features that are fresh to the Corvette range, many with efficiency in mind. Most obvious is Active Fuel Management, which can shut down half of the car's eight cylinders during more casual driving, cutting gas consumption in the process. Get more energetic behind the wheel, and the rest of the LT1 instantly wakes up.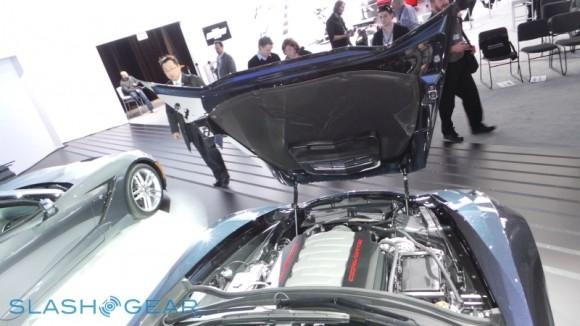 There's also Direct Injection, which is said to improve combustion efficiency by ensuring the fuel-air mixture is correct. It works along with a new cylinder-head and new piston design, for higher compression.
Chevrolet's ambitions for the Corvette C7 are believed to be considerably higher than 455HP, however. Previous leaks have suggested that GM is readying a revival of the ZT1 name, using a supercharged version of the LT1 engine for a newly-dubbed LT5 good for as much as 700HP.
That car, if real, isn't expected to reach showrooms for some time, however – into 2014, the leaks suggested – while the existing C7 will show up on forecourts this fall. Its convertible sibling will arrive by the end of the year.