GM and Honda fuel-cell team sees engines and infrastructure come 2020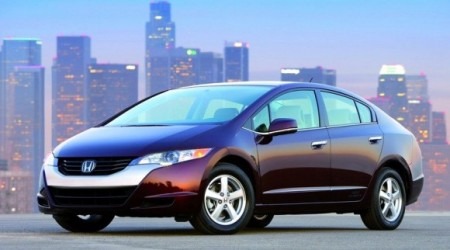 GM and Honda will collaborate on fuel-cell car development, the two companies have confirmed, preparing hydrogen power systems, storage, and refueling infrastructure for a 2020 launch timeframe. The team effort will see GM and Honda work with third-parties on building out networks for hydrogen availability, with the goal being a broadly accessible three-minute refuel. Both companies already have fuel-cell powered cars on the roads, though in limited numbers.
Honda began leasing the FCX more than a decade ago, following it up with the FCX Clarity. In total, there are 85 examples of both models combined in the US and Japan. As for GM, that has 119 Project Driveway cars on the US roads – modified versions of the Chevy Equinox – with a total of almost 3m miles under their collective belts since 2007.
Hydrogen-powered vehicles have already made headlines this week, with Toyota revealing plans to have a 2015 model year car, powered by fuel-cells, on the road in 2014. The unnamed vehicle is expected to cost in the same region as a Tesla Model S – putting it somewhere in the $50,000 to $75,000 bracket – and offer a roughly 300 mile range on a full tank.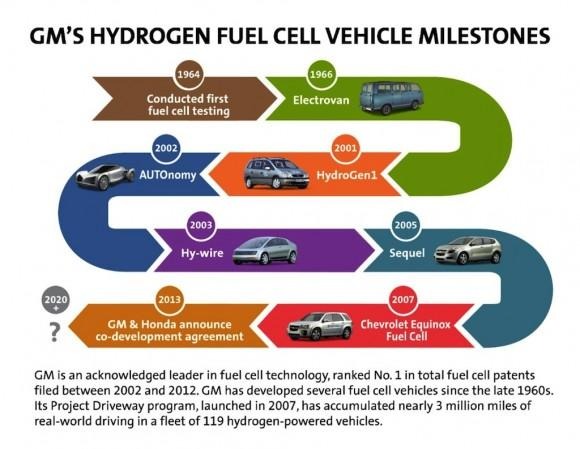 However, the potential for fuel-cells has also been loudly criticized of late. Elon Musk, founder of Tesla, held little back when criticizing the technology, arguing that range and refueling issues made it impractical in comparison to EVs such as the company's own Model S. Meanwhile, there remain questions around hydrogen supply infrastructure, which is currently limited to a small number of locations.
Despite the arguments, Honda is already working on a successor to the FCX Clarity, which it expects to launch by 2015. GM hasn't publicly confirmed its fuel-cell production plans, though holding off a broad launch until the refueling points are more widespread seems sensible.
Fuel cells work by combining hydrogen gas – stored under high pressure in a tank in the car – and oxygen in the presence of layers of polymer electrolyte membranes coated with a catalyst. Each layer produces less than a volt, individually, but when harnessed in large numbers, the power becomes sufficient to drive electric motors and, thus, a car.
Both companies have taken multiple approaches to cutting reliance on gas engines. In GM's case, the company already has the Volt, which pairs electric and gas, and more recently has launched the Spark EV, which is an entirely electric version of the Spark city car. The Cadillac ELR meanwhile, set to launch in early 2014, also pairs gas and electric power, though the traditional engine is only ever used to recharge the batteries for the electric motors.
Over in Honda's range, there are hybrid versions of the Insight, Civic, and CR-Z, along with a natural gas Civic, and full-electric Fit and Accord variants.