Giorgio Armani Samsung phone gets fully spec'd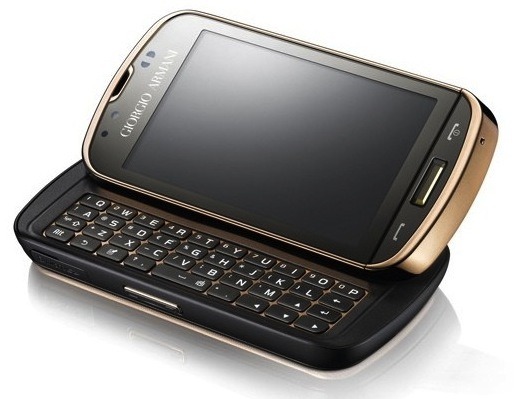 Samsung's Giorgio Armani Windows Phone might have strutted its stuff on Friday, but the company has only just got around to pushing out the official press release.  That confirms that the Windows Mobile 6.5 handset has such pleasantries as a 3.5-inch WVGA AMOLED touchscreen, 5-megapixel autofocus camera and 8GB of onboard storage, but also defines the HSPA bands and other specifications.
The new Armani phone is a triband HSPA device, supporting the 900/1900/2100 bands, and will be available in Italy, the UK, Germany, the Netherlands, Spain, Russia, China and the UAE (Dubai).  It also has quadband GSM support, and measures in at a chunky 118.5 x 58.3 x 16.4 mm.
What Samsung haven't revealed is official pricing, though Friday's reveal did suggest that the SIM-free, unlocked version of the Windows Phone would come in at €700 ($1,301).  No word on specific release dates as yet.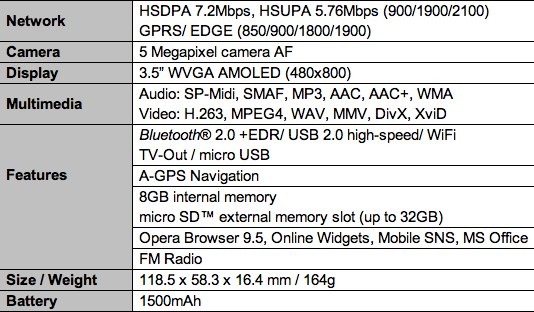 Press Release:
GIORGIO ARMANI, SAMSUNG AND MICROSOFT

PRESENT THE NEW GIORGIO ARMANI – SAMSUNG SMARTPHONE

Milan, October 9th, 2009 – Giorgio Armani, Samsung Electronics Co. Ltd., and Microsoft are proud to present the new Giorgio Armani-Samsung smartphone, the most elegant and functional mobile on the market. Giorgio Armani himself personally designed this stylish smartphone, as he did with the first Giorgio Armani Samsung mobile in 2007 and the Emporio Armani Samsung "Night Effect" mobile in 2008. In 2009, the new smartphone makes its debut with more powerful functions and superior usability. The next rendition of this style and technology partnership includes a Microsoft Windows Mobile 6.5 operating system, a unique two step tilt hinge form factor with both full touch screen and QWERTY keyboard hybrid, and a stunning 3.5 inch Ultra Brilliant AMOLED display.

The Giorgio Armani-Samsung smartphone is part of an innovative brand alliance of portable electronics and household products by Giorgio Armani and Samsung Electronics. This phone stands out due to the innovative blend of Giorgio Armani's refined style and Samsung Electronics' cutting-edge technology.

Giorgio Armani, President and CEO of Giorgio Armani S.p.A., commented: "Today more than ever, elegant dressing is part of daily business life. When Samsung asked me to design the new business and lifestyle smartphone I decided to use my fashion aesthetic to create it. I simply aim to create a smartphone which is not only an elegant tool but also functional and useful, perfect for today's managers. The result is a unique smartphone perfectly suited to every moment of one's business and private day. This is the Armani aesthetic – to combine beauty with function in a simple and timeless way."

JK Shin, Executive Vice President and head of the Mobile Communications Division at Samsung Electronics, said: "We are delighted to have reached another milestone in the collaboration between Giorgio Armani and Samsung Electronics. This latest-generation mobile masterfully combines our experience in technology with a design from one of the world's best known designers, and the functions offered by Windows Mobile 6.5 operating system. What's more, the Giorgio Armani-Samsung smartphone is a demonstration of our commitment to offering customers cutting-edge technology in our products, along with exclusive design and fashion."

"Mobile phones armed with Windows Mobile bring together the best of the Web, the PC, and mobile phones so that people can connect instantly to the experiences they care about," said Steve Ballmer, CEO of Microsoft Corp. "But people want more than just a useful device – they want a phone that offers design qualities that match their personality and lifestyle. The Giorgio Armani-Samsung smartphone we're announcing today with Giorgio Armani and Samsung combines technology innovation and fashion to deliver a great mobile phone that also fulfills the desire for style and elegance."

Designed to standout in the crowd

Like previous Giorgio Armani Samsung Mobile, the new device is designed by Giorgio Armani, reflecting his simple and graceful design philosophy. The unique two-step 30-degree tilt hinge form factor combines sophisticated design with exceptional usability. The phone also comes in a distinctive and elegant bronze gold color, which coordinates perfectly with Giorgio Armani's suits.

Your mobile business partner

The new Giorgio Armani-Samsung smartphone offers always-on connectivity tools including 7.2Mbps HSDPA, 5.76Mbps HSUPA and WiFi access. With its unique form factor supporting full touch and QWERTY at same time, the phone provides a dynamic mobile internet experience through Push e-mail with Microsoft Exchange and full internet browsing.

The Giorgio Armani-Samsung smartphone comes with the new Windows Mobile 6.5 operating system. It's one of the first phones available with the innovative Windows Mobile 6.5 operating system, which will lead the way to a new generation of mobile services and applications. Windows Mobile 6.5 includes a new start page and dashboard that simply and intuitively displays key productivity features such as e-mails, text messages, missed calls, and calendar appointments.

It also includes a touch interface that provides quick access to the main functions of the smartphone. The free My Phone service, which is a newly added Windows Mobile 6.5 application, lets users access, manage, and easily run backups of the personal information contained in the device using a password-protected Web-based service. Synchronization and automatic backups guarantee users that their contacts, appointments, text messages, and other information is kept up-to-date and is always easy to retrieve if the phone is lost or when changing phones.

Work hard but play harder

To satisfy business professionals, who want to easily and efficiently manage their work and personal lives, the Giorgio Armani-Samsung smartphone offers the latest multi-media features such as a 5-megapixel camera, a music player and a video player supporting various types of multimedia formats. The phone comes with 3.5" ultra brilliant AMOLED screen for viewing videos and slide shows in high-resolution and with reduced power consumption. Furthermore, it offers 8 Gigabytes of internal memory and an extendable microSD slot up to 32GB to store multimedia content.

The Giorgio Armani-Samsung smartphone also offers GPS navigation, so users can get their bearings wherever work or life takes them.

The Giorgio Armani-Samsung smartphone will be available in Italy, the UK, Germany, the Netherlands, Spain, Russia, China, and the UAE (Dubai).