Samsung Giorgio Armani Windows Phone debuts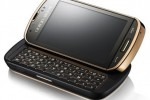 It's hard to imagine fashionistas being sucked into buying a Windows Phone, but if the iPhone doesn't appeal and you're a real Giorgio Armani addict then Samsung's latest device could be the answer.  The smartphone runs Windows Mobile 6.5 with a slide-out QWERTY keyboard and a 3.5-inch AMOLED touchscreen, together with a 5-megapixel camera for snapping shots of the catwalk.
To be honest, aside from the branding this is a pretty generic Windows Phone, with all the usual specs you'd expect, including GPS and a microSD card slot.  Still, there's 8GB of onboard storage, which is welcome, and bronze highlights "which coordinates perfectly with Giorgio Armani suits" so the designer claims.
You might need to choose between the Windows Phone and the new suit, however, as the Armani handset won't come cheap.  SIM-free it's expected to arrive at around €700 ($1,031).