Gigabyte T1028M, M1022 & S1024 netbooks hit importers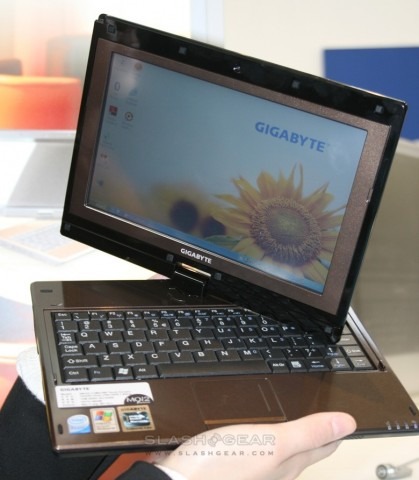 Gigabyte's three CeBIT 2009 netbooks have scored pricing and shipping dates from importer Mobilx.  The Gigabyte M1022 BookTop, which has an upright desktop docking station and the Gigabyte T1028M TouchNote with a convertible 10.1-inch touchscreen will land at the end of next month, followed by the Gigabyte S1024 ThinNote.
Intel's Atom processor makes an appearance in each netbook, with the BookTop and ThinNote both using the N270 1.6GHz chip while the TouchNote gets the slightly faster N280 1.66GHz and the GN40 graphics chipset.  All have 10.1-inch displays, WiFi b/g, Bluetooth 2.1 and 1GB of RAM.  Both the BookTop and the TouchNote have 160GB 5,400rpm hard-drives, while the ThinNote has an 80GB 4,200rpm drive.  Integrated 3G is optional on each.
The Gigabyte M1022 and T1028M will begin shipping from April 30th, and will be priced from €440.34 excluding VAT and €477.63 excluding VAT respectively ($594 and $644 respectively).  No shipping estimate for the Gigabyte S1024, but it will be priced from €440.34 excluding VAT ($594).
[via jkkmobile]