Gigabyte Booktop M1022 with desktop dock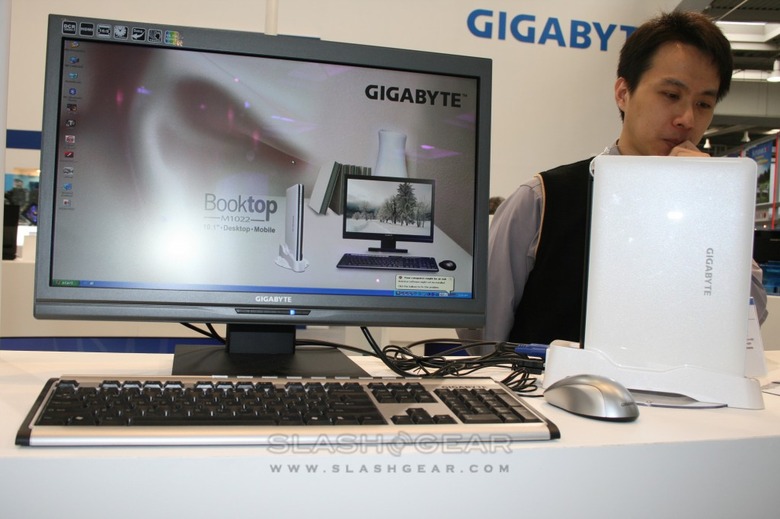 Docking stations for laptops aren't new, but offering one for a netbook is.  That's what Gigabyte have brought along to CeBIT this year, in the shape of the Gigabyte Booktop M1022, a 10.1-inch WXGA netbook running Intel's Atom N270 1.6GHz processor that has a special upright dock offering connectivity to a standalone monitor and peripherals.
Other specs include a choice of Intel 945GSE or GN40 graphics, 1GB of DDR2 memory as standard (2GB max), 160GB of storage and an ExpressCard slot.  Connectivity includes WiFi a/b/g, Bluetooth 2.1, optional 3.5G WWAN and WiMAX.  The Gigabyte Booktop M1022 comes with Windows XP Home and has three USB 2.0 ports, a 6-cell 7,800mAh battery and weighs 1.3kg.
We're unsure of pricing or availability for the Gigabyte Booktop, but not as uncertain as we are about its actual point.  Docking stations for notebooks generally make sense as they let you use the grunt of your laptop with full-sized peripherals; netbooks, however, especially those based on the Atom N270, don't tend to make all that many claims about desktop grunt.  They're intended more as companion devices, and as such we're not clear why you'd go to all this effort.