Gigabyte BookTop M1305 & M1405 With External GPU Docks Get Video Demo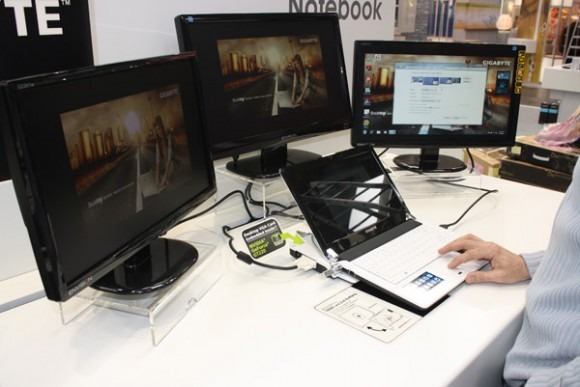 Remember Gigabyte's BookTop M1405, the docking-station equipped notebook that not only gained extra ports when locked into place, but an external graphics card?  Gigabyte have been demonstrating it at CeBIT 2010 this week, and it looks an interesting prospect.  In fact, there are two new BookTops, the M1405 – with a 14-inch display – and its 13-inch M1305 partner, packing a choice of Celeron ULV, Pentium or Core 2 Duo processors.  Inside the dock, meanwhile, there's an NVIDIA GeForce GT220 with 1GB of its own DDR3 memory.
Video demo after the cut
Other specs include a 320GB or 500GB 2.5-inch HDD, 1,366 x 768 display and integrated Intel X4500MHD graphics.  Both have a 1.3-megapixel webcam and WiFi, along with a fingerprint reader and optional 3G; the M1405 also gets Bluetooth 2.1+EDR.  Gigabyte reckon the M1305 will last for up to a slightly-unbelieveable 6hrs from the 3-cell 3,800mAh battery; a second, 2,550mAh power pack can be added to extend that by another 4hrs.
We still don't know how much the two Gigabyte notebooks will cost, but we're quietly excited.  Having dual-mode graphics in a notebook isn't new, but it's arguable whether most people use the higher-performance chip while on the move because of the battery impact.  Instead, they save it for when they're back at their desk, just like the new BookTops offer.