GE's connected bulbs get Alexa and Google Assistant bridge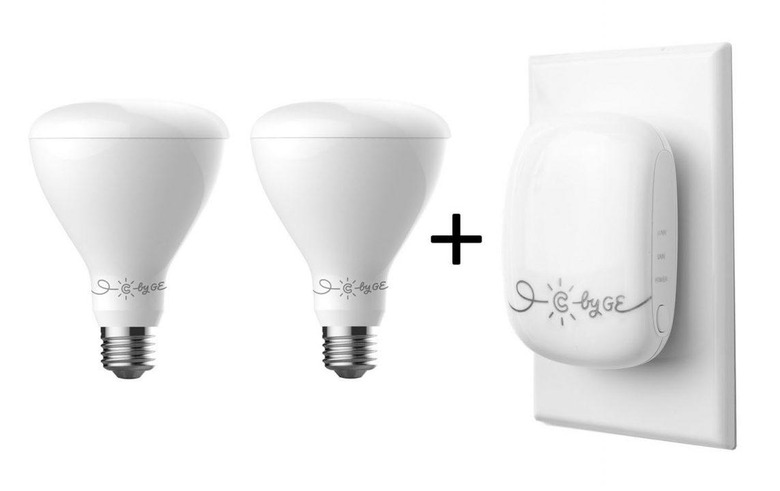 GE is adding voice control to its C by GE Lighting smart bulb range, with a new bridge that will open the door to Amazon Alexa and the Google Assistant. The hub, dubbed the C-Reach bridge, plugs into a spare outlet and connects to two of GE's smart bulb lines.
First off, there's the C-Sleep range. These have support for different types of white light, which are believed to encourage melatonin production so as to help you get off to sleep or wake up more rapidly in the morning. For instance, before bed GE recommends a warm light, while a cooler light in the morning provokes energy production. The C-Sleep bulbs are available in 60W-equivalent, A19 socket form, and can be either scheduled in the GE app or adjusted manually by voice using the new C-Reach bridge.
Secondly, there are the C-Life bulbs. These are white-only, but unlike the C-Sleep don't adjust the color temperature. Again, they can be scheduled with the app, or now controlled via Alexa or the Google Assistant. They're offered in 60W-equivalent A19 form, or as 60W-equivalent BR30 recessed bulbs.
Meanwhile, GE is also pushing its recently-announced Sol lamp. Distinctively circular – and looking a little like a skinnier Dyson fan – the lamp has Alexa integrated for hands-free use. It can now control the C by GE bulbs from the C-Sleep and C-Light ranges, without needing the new hub.
The C-Reach bridge will be sold as a bundle, with either Sleep or Life bulbs. The cheapest kit will see it paired with two C-Life bulbs, which will be a Cyber Monday deal on Amazon for $49.99. After that, it'll retail for $64.99.
If you want C-Sleep bulbs, meanwhile, there'll be a kit which includes two of those for $64.99 on Cyber Monday. Regular MSRP will be $84.99. GE says there'll also be a kit with the BR30 C-Life bulbs too, but it's unclear if the C-Reach bridge will be sold separately for those who already have all the bulbs they need.
Finally, Sol with integrated Alexa will be cut to $99.99 for Cyber Monday, again on Amazon. At the same time, there'll be a kit including Sol and four connected bulbs, for $119.99.