Genesis Essentia Concept is an EV GT to put Tesla to shame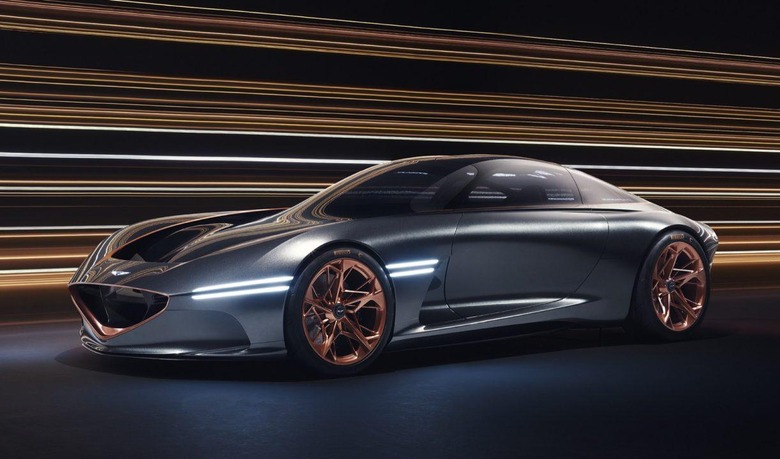 When you're envisaging the modern GT, as the Genesis Essentia Concept does today at the New York International Auto Show, you start with pure-electric and then wrap it in a beguiling shell. It's Genesis' first battery-electric vehicle, though this is no squeaky-clean urban runabout. Instead, the Essentia explores what electrification means to the modern Gran Turismo car.
So, the proportions are classic, gas-guzzling GT, with a lengthy hood and a cabin positioned as far back as possible. It's low, too, giving it a dynamic and aggressive stance, while the Stardust Gray Metallic paint-job makes way for transparent sections in places, to expose the underlying carbon fiber body. The transparent panels also give a view of the running gear, like the Formula car-style nose cone and exposed pushrod suspension.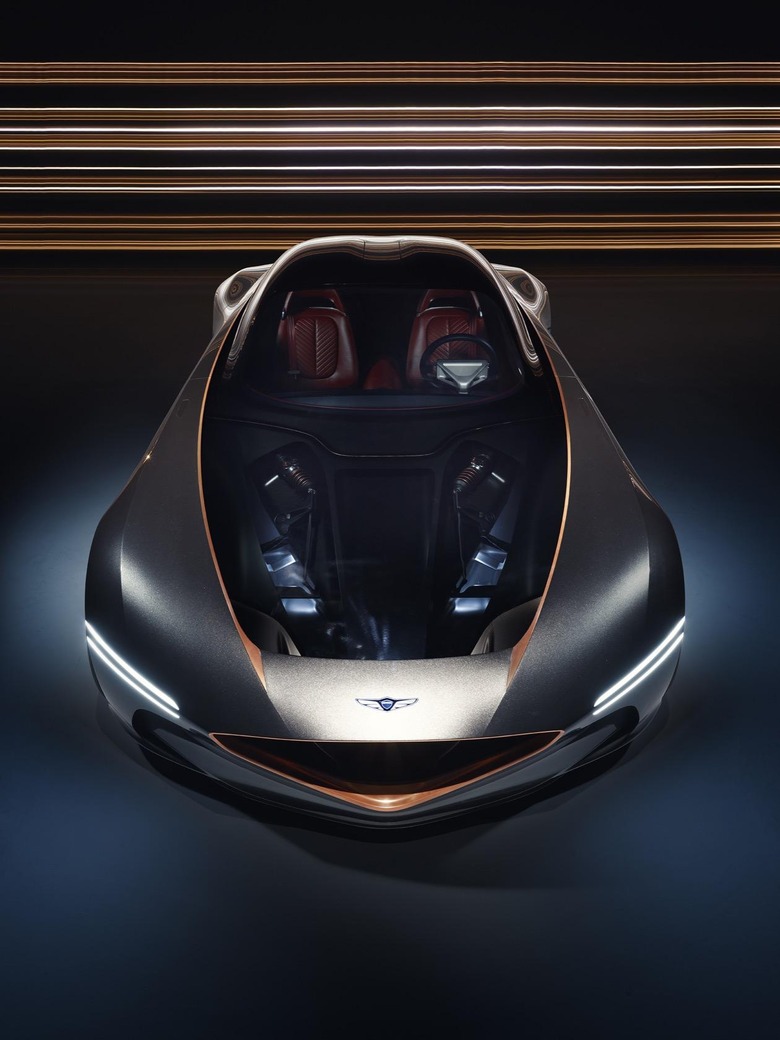 Genesis' traditional grille is hinted at, but in a more abstract way, at the front. The vents flanking it are functional, too: they act as air curtains, to streamline airflow around the front corners of the car. The GV80 concept's Genesis Quad Lights use laser optical technology to shrink down to mere slits, extending out into the side-blades by the front wheels.
Butterfly doors offer both some visual drama and a more accessible cabin, and Genesis has thrown in some high tech gadgetry too with fingerprint scanning and biometric facial recognition for locking and unlocking the car. At the rear, there are flush Quad Lights and a carbon fiber surrounded diffuser. Midas metal copper picks out detailing and matches the huge wheels.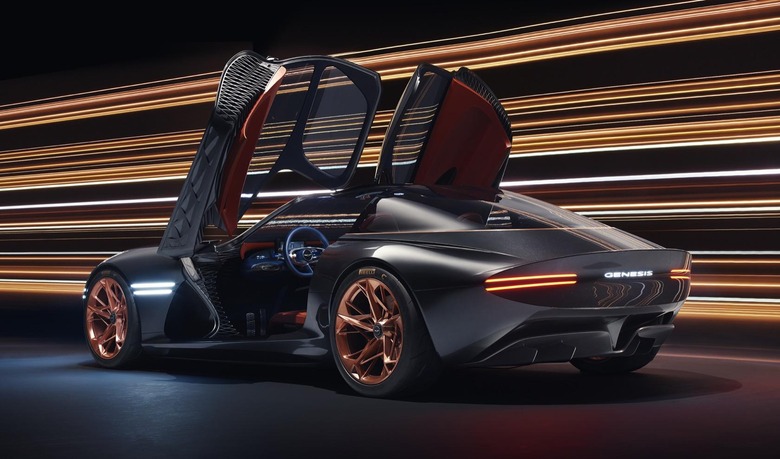 Step in through those expansive doors and the cabin carries over the transparent theme. Genesis has used 3D printing, cognac leather for the seats with herringbone quilting, and an Oxford blue leather contrast color for the center console that runs the length from dashboard to rear. The roof lining and pillars are wrapped in blue velvet, almost as striking as the glass pearl finish aluminum and polished aluminum seat belt detailing. Then there's more carbon fiber, here layers for a 3D optical effect.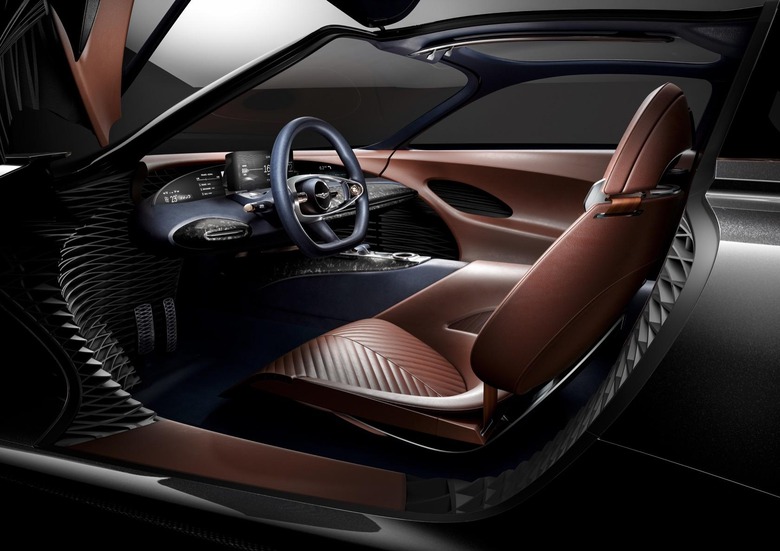 The dashboard itself puts an 8-inch widescreen display in front of the driver, with a central controller topped with a jewel-like knob for navigation. The Essentia is of course connected, with Genesis envisaging it pulling in car-to-car and vehicle-to-infrastructure data so as to keep a 24/7 awareness of potential traffic jams or other congestion. Voice recognition is the preferred method of interaction, though Genesis says the car will learn driver preferences and whims, and tailor its settings accordingly.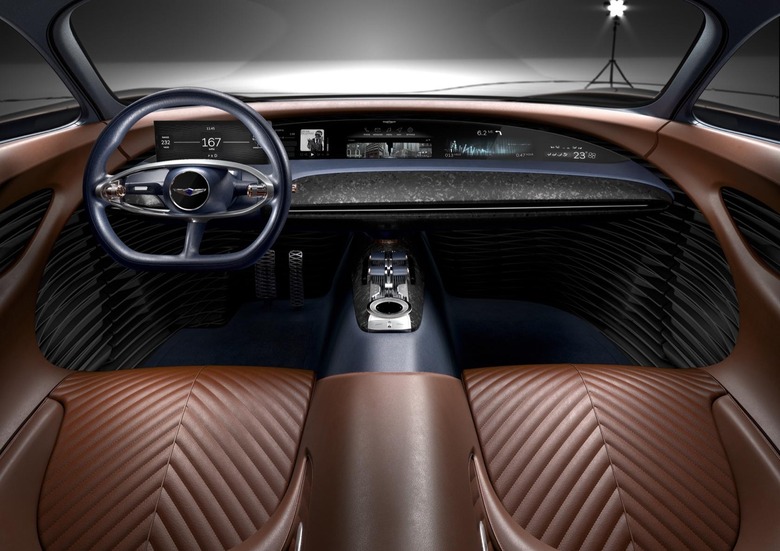 There's integration with smart home equipment, and even support for mobile payments envisaged. Just in case, presumably, you need to renew your Spotify subscription while on the highway.
As you'd expect from a GT there's both rear seats and a fairly sizable cargo area. Genesis hides the high-density battery under the carbon-fiber monocoque, within the center tunnel rather than flat under the seats, to maximize the low stance. No word on how much range it might get as a result, but Genesis says the Essentia as envisaged could do 0-60 mph in around 3.0 seconds.
While it's only a concept, Genesis is making all the right noises about the Essentia's potential moving forward. At the very least, we can expect elements of its "Athletic Elegance" design language to crop up in future production cars from the company. It also represents an attempt by Hyundai's luxury sub-brand to carve a more meaningful reputation for itself, something that will be all the more essential as Genesis is positioned as a standalone marque.