Hyundai's Genesis is growing up and leaving home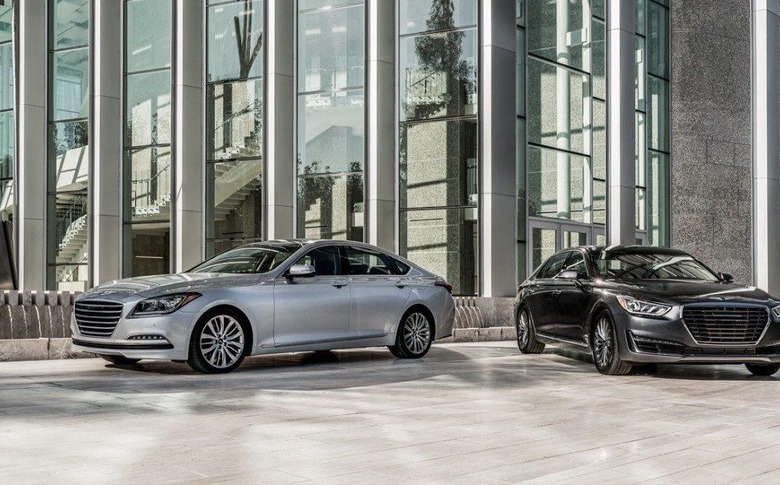 Hyundai's Genesis brand is about to leave the nest, with the automaker informing dealers that it plans to open standalone retail locations to better distinguish the marque. Genesis Motors was launched as a standalone nameplate in late 2015, as Hyundai's retort to Toyota's Lexus and Honda's Acura, not to mention a play for a segment of customers willing to pay more for greater luxury.
Although Hyundai only spun the name out as a standalone nameplate two years ago, Genesis has actually been around a lot longer than that. Indeed, it debuted in the form of the Hyundai Genesis back in 2007, a rear-wheel drive sports sedan that was launched in the US the following year. Come 2015, the first Genesis to drop the Hyundai name arrived in the shape of the G90.
So far, though, Genesis has shared retail space with its automaker parent. That looks set to change, though, with an ambitious plan to expand over the next three years and pitch Genesis as effectively a standalone business.
Initially, that'll involve building out the network of retailers, until Genesis has around 100 "covering all of Genesis' defined key luxury markets," the automaker says. At first that'll be from either temporary or shared facilities. However over the next three years construction of standalone Genesis facilities will be undertaken.
"At Genesis, we believe in putting our customers first and giving them a proper ownership experience," Erwin Raphael, General Manager of Genesis Motor America, said of the decision. "To ensure that happens, we need to take this next step in the separation of the Genesis brand from our parent company."
It won't mean cutting ties with existing Hyundai dealers, mind. Those already offering Genesis sales will be given the first opportunity to apply for a Genesis franchise, in fact. However, the automaker will be making its decision based on factors like location priority, it warns.
The decision to "go it alone" is a tricky one, but probably makes sense for Genesis at this point. Sales of the company's cars exceeded 20,000 units in the US in 2017; however, for some potential buyers the association with Hyundai may dull the shine of what's trying to be an upscale brand. Conversely, the risk is that these standalone franchises fail to get the foot traffic, some of which undoubtedly comes from drivers considering Hyundai opting to cross-shop what more they could get from the automaker's premium arm.