General Motors ditches Facebook advertising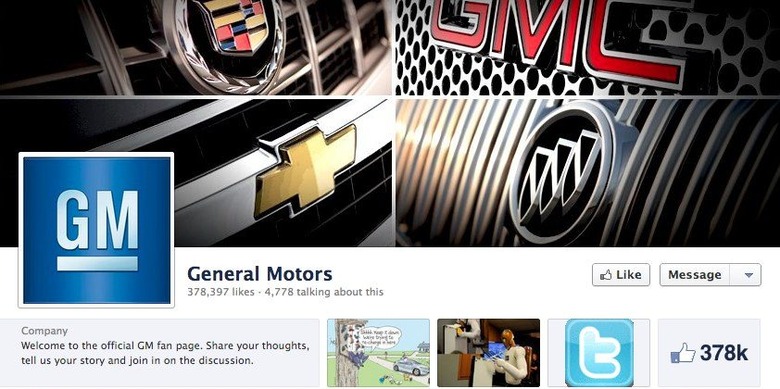 Automotive behemoth General Motors has ditched its Facebook advertising plans, the car company has confirmed, though it intends to continue using the social network for free outreach to consumers. GM gave no specific reason publicly for its decision to cease using Facebook adverts, but a source familiar with the decision told WSJ that the campaigns "had little impact on consumers" and were not being seen as the best use of advertising budgets.
'In terms of Facebook specifically, while we currently do not plan to continue with advertising, we remain committed to an aggressive content strategy through all of our products and brands, as it continues to be a very effective tool for engaging with our customers" a GM spokesperson said of the change. The company will continue to use its free Facebook profile pages to announce news and field comments from drivers.
The decision to abandon Facebook advertising is being viewed as a considerable one within the industry, given General Motor's heft. As the third largest spender on advertising in the US – only beaten by Proctor & Gamble Co. and AT&T – it is believed to have been pumping $40m into promotion on Facebook, $10m of which was supposedly in paid adverts.
Facebook has highlighted advertising as one of its key risk areas ahead of the social site's IPO later this week. The company has seen a surge in users accessing the site from mobile devices, but revenue from advertising is yet to catch up with that increase. Nonetheless, estimates for the Facebook IPO are still more than healthy, with the company board releasing a further 50m shares earlier this week, and bumping the overall estimate to the site's worth to over $100bn.