Gear VR headset released with AT&T and Samsung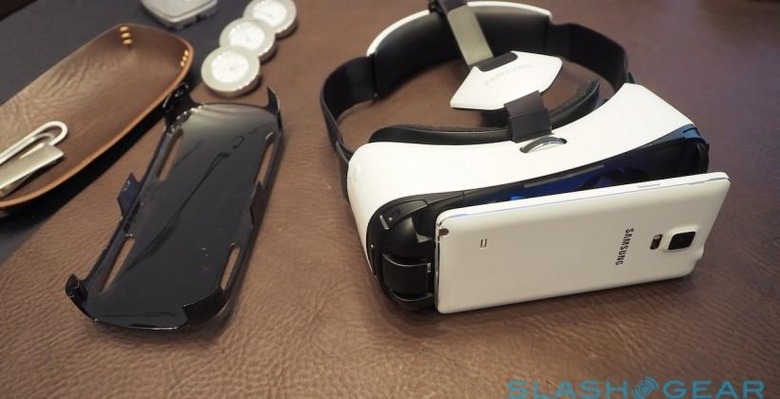 This week the folks at Samsung have pushed their Gear VR virtual reality headset to the public as an Innovator Edition. This is akin to the Explorer Edition of Google Glass in that it's not necessarily meant to be a consumer device in the traditional sense. You can buy this VR headset for use with your Galaxy Note 4 through AT&T starting December 12th or straight through Samsung starting this week. This device works with the Galaxy Note 4 exclusively – and you'll need one to make this headset do anything.
The Gear VR Innovator Edition uses the Galaxy Note 4 as a display. With the Note 4 locked in to the headset, the headset will be powered and provided content. This device was shown earlier this year at IFA 2014 during Samsung Unpacked.
AT&T will be selling this headset for $199 USD. You can also buy the device for that same price straight through Samsung.
This device comes with a 16GB microSD card with pre-loaded content. You'll be able to download additional apps and games through the Oculus VR app available with the Galaxy Note 4. You'll be able to access touch controls and a back button on the right side of the headset alongside volume controls – a focus dial is set at the top of the headset.
You'll want to have a peek at OculusVR's first talk on the headset earlier this year. "This is a landmark first step," said John Carmack. "Experiencing mobile VR is like when you first tried a decent desktop VR experience – there is a sense that you are glimpsing something from the future. This is science fiction made real, and it's only just the beginning."
Carmack was hired by Oculus back in August of 2013, and is best known as a co-creator of Doom and Quake.