Garmin vivofit fitness band hands-on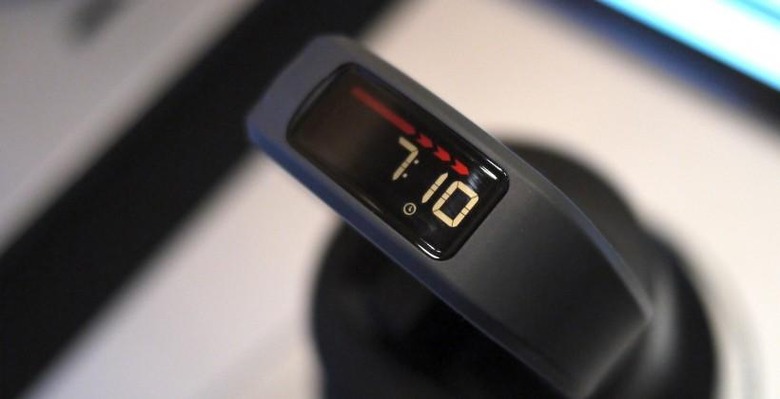 Garmin knows it can't count on the in-car navigation market to carry its fortunes, and so the company is ramping up its wearables focus, kicking off CES 2014 with the vivofit band. Tracking both movement and sleep, the vivofit hooks up to a computer via Bluetooth 4.0 or an ANT+ dongle, but the best news could be the battery life: Garmin says it'll last for a year on a single set of replaceable batteries.
That's legions away from most fitness wearables, which generally need to be charged up at least weekly. Despite the longevity, Garmin still fits an easily readable monochrome display in, which cycles through daily step count, the countdown to your personal goal, the distance you've travelled, how many calories you've burned, your heart rate – if paired by ANT+ to an optional heart rate monitor – and your position in your personal heart rate zone.
Stop moving during the day, meanwhile, and a big red arrow appears on the display to warn you that you really should start moving around.
It also works as a watch, and can store up to a month of data between syncs. You'll be missing out, though, if you wait that long; Garmin Connect, the company's cloud service, analyzes the individual wearer and cooks up a personalized fitness plan.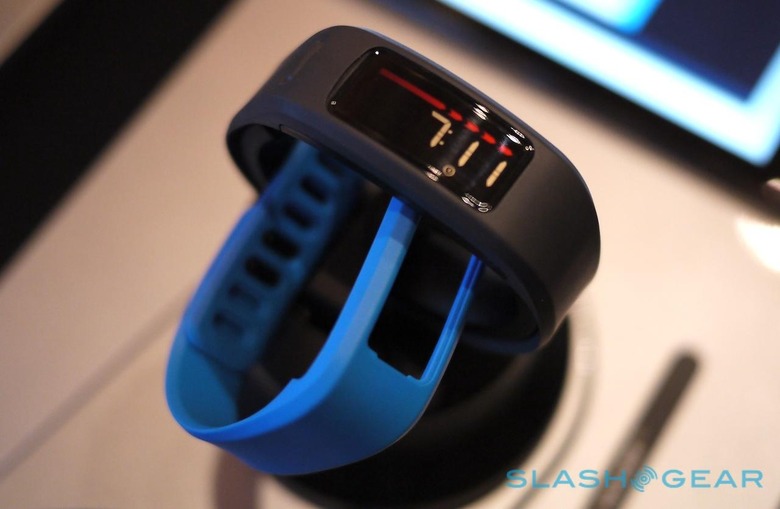 The 25.5g band fits comfortably, with a double-pin clasp keeping it securely fastened on your wrist. Garmin will offer a number of different colors, as well as sleeves into which you can slot the vivofit, and the whole thing is waterproof in case you find yourself doing the washing up or in the shower.
Garmin's fitness division grew significantly in the third quarter of 2013, by around 25-percent in fact the company told us here at CES, and that's even before the vivofit hits shelves. That's due to happen in Q1 2014, priced at $129.99 for the band alone, and $169.99 with the heart rate monitor thrown in. For the battery life alone, we think Garmin may well have a hit on its hands.