Garmin StreetPilot for iPhone hits App Store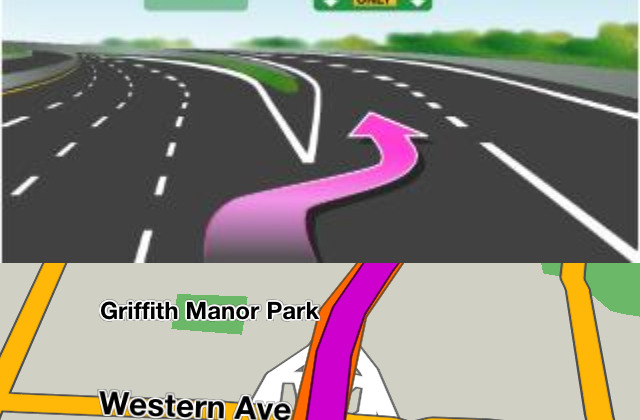 Garmin looks to be hedging its bets when it comes to the hardware/software PND debate, launching not only the nüvi 2400 range of dedicated 5-inch GPS units, but its first iPhone app as well. Garmin StreetPilot for iPhone offers turn-by-turn directions with spoken street names, free traffic alerts, lane-assist with a junction view for complex highway navigation, and integration with iTunes for music playback while you're driving.
As you'd expect, it also supports Apple's iOS multitasking system, so that navigation isn't shut down even if you switch to a different app. Address Book integration allows for easier route planning, too. The new Garmin StreetPilot for iPhone app is available now, priced at $39.99.
Press Release:
Garmin® Brings Turn-by-Turn Navigation to iPhone with New StreetPilot App

Garmin rolls out new smartphone application lineup at 2011 Consumer Electronics Show

OLATHE, Kan./January 4, 2011/Business Wire — Garmin International Inc., a unit of Garmin Ltd. (NASDAQ: GRMN), the global leader in satellite navigation, today announced its first turn-by-turn navigation app for iPhone, StreetPilot, as well as its full lineup of new smartphone applications for both iPhone and Android. Garmin's new mobile applications — including StreetPilot for iPhone, Garmin Tracker, myMechanic, and My-Cast Lite — will be on display in the Garmin booth (South Hall #35831) at the 2011 Consumer Electronics Show in Las Vegas.

"Providing consumers with mobile applications is yet another way they can experience the benefits of Garmin – be it our navigation expertise or bringing the capabilities of our niche market products to a smartphone. GPS is an extremely helpful tool, but we recognize it's not a one-size-fits-all solution. We decided to introduce a new line of smartphone applications so that we can give customers a quality Garmin experience in the format of their choosing," said Dan Bartel, Garmin's vice president of worldwide sales.

The StreetPilot® App: Designed specifically for iPhone, the StreetPilot App gives iPhone owners unlimited use of Garmin's industry-leading navigation with traffic alerts. The intuitive interface greets users with two simple options: "Where to?" and "View Map." Customers can easily look up addresses and services and get voice-prompted, turn-by-turn directions that speak street names to their destination.

The StreetPilot App includes many of the same high-end features available on Garmin's standalone automotive GPS devices like free traffic alerts that enable drivers to steer clear of traffic accidents, road closures and construction; lane assist with junction view that directs drivers to the preferred lane and displays realistic images of upcoming complex junctions; and speed limit indicators that display speed limits for most major roads. It is an off-board navigation system so that customers always have the advantage of the most up-to-date mapping information available.

The StreetPilot App also integrates with a driver's iTunes music library so they can access and control their music while on the move; integrates with their address book so they can navigate directly from their contact list; and uses the multitasking ability of iOS 4 to allow them to take a phone call while the navigation continues to work in the background.

The StreetPilot App is available now for $39.99 from the App Store on iPhone or at www.itunes.com/appstore.

Garmin Tracker: Available soon for iPhone and Android, the free Garmin Tracker App works in conjunction with the Garmin GTU 10 tracking devices (also announced at CES 2011) allowing users to track the things that mean the most to them – a child, pet, boat, car and more – and see its location from the convenience of their smartphone.

myMechanic: Auto aficionados can now know their car's specific performance metrics including horsepower, torque, G-force, and more. Available for download from the Android Marketplace beginning in February 2011, myMechanic's information is available when paired via Bluetooth with Garmin's ecoRoute™ HD module.

My-Cast® Lite: In addition to the lineup of My-Cast apps currently available for iPhone, a new, free My-Cast Lite application is available now for Android users which provides radar, current conditions, hourly and extended forecasts and more.

Since its inception in 1989, Garmin has delivered 72 million GPS enabled devices – far more than any other navigation provider. Garmin's market breadth in the GPS industry is second to none, having developed innovative products and established a leadership position in each of the markets it serves, including automotive, aviation, marine, fitness, outdoor recreation, tracking, and wireless applications.