Garmin nüvi 2400 Series PNDs offer 5" touchscreen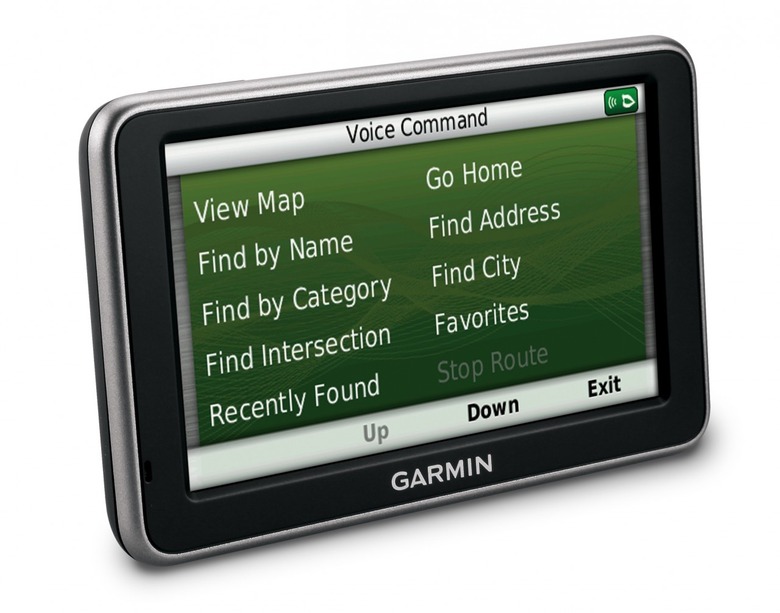 As more people rely on their smartphones for turn-by-turn navigation, is there still a market for a standalone PND? Garmin reckons there is, hence the new nüvi 2400 Series of sat-nav devices. Fronted by a 5-inch touchscreen, the four-strong range – nüvi 2460LMT, nüvi 2460LT, nüvi 2450LM, and the nüvi 2450 – offer predictive traffic, automatic logging of favorite destinations, and, optionally, hands-free Bluetooth calling and voice-control.
The nüvi 2460LMT and nüvi 2460LMT each have lifetime traffic subscriptions, and all four models support user-rating of POIs which can then be synchronized with other Garmin PND owners. The UI itself is also customizable, allowing you to pull commonly-accessed features to the front.
Pricing is expected to range from $249.99 to $349.99 when the nüvi 2400 Series goes on sale in Q1 2011. The LM-models also get lifetime mapping updates.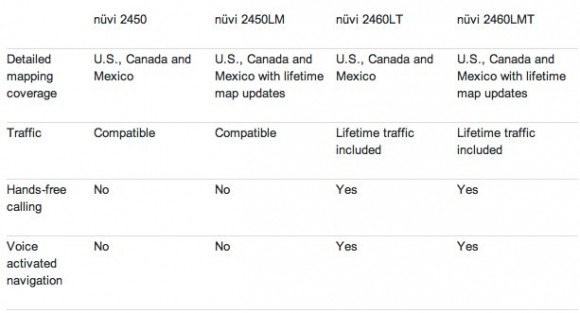 Press Release:
Garmin® Debuts nüvi® 2400 Series: Large Format Navigators With Advanced Features

OLATHE, Kan./January 4, 2011/Business Wire — Garmin International Inc., a unit of Garmin Ltd. (NASDAQ: GRMN), the global leader in satellite navigation, announced today the nüvi 2400 series of personal navigation devices, featuring a large five-inch display and a new range of optional features like voice-activated navigation, lifetime traffic and map updates, and advanced route planning and calculation with Garmin's nüRoute technology. The nüvi 2400 series will be showcased in the Garmin booth (South Hall #35831) at this year's Consumer Electronics Show.

"The nüvi 2400 series offers drivers some of the most sophisticated and sought-after features available on the market today," said Dan Bartel, Garmin's vice president of worldwide sales. "The large five-inch diagonal display is easy on the eyes, and options like voice activation, traffic alerts, and enhanced route calculation make traveling across town or cross-country easier than ever. And never before have these features been available at such an economical price."

The nüvi 2400 series is comprised of four models: the nüvi 2460LMT, nüvi 2460LT, nüvi 2450LM, and the nüvi 2450. Models featuring voice activated navigation let users control nüvi by voice, so they can keep their eyes on the road and hands on the wheel. Simply wake up nüvi with a customizable voice command and begin speaking menu options that are displayed on the screen. Bluetooth connectivity lets users make and receive phone calls when paired with a compatible Bluetooth-enabled phone. Lifetime traffic-enabled models help notify drivers of traffic delays and road construction and suggest detours around them. Units featuring lifetime map updates let users download the most up-to-date maps and points of interest up to four times a year.

All models feature nüRoute with trafficTrends™ and myTrends™ predictive routing. With trafficTrends, nüvi automatically learns traffic flow trends to improve route calculation and better predict the estimated time of arrival based on time of day and day of week. With myTrends, nüvi will, over time, begin to anticipate a route to favorite destinations as soon as the device is powered up.

The nüvi 2400 series lets consumers customize their unit in new ways as well. Users can give a one- to five-star rating to any point of interest. When the unit is connected to a myGarmin account, they can submit their ratings and receive an updated community database of ratings from other users. Owners can also customize their device's main menu to display their most-used icons for quick navigation.

Priced from $249.99 to $349.99, the nüvi 2400 family is expected to be available in the first quarter of 2011. Visit www.garmin.com for more information and pricing.

Since its inception in 1989, Garmin has delivered 72 million GPS enabled devices – far more than any other navigation provider. Garmin's market breadth in the GPS industry is second to none, having developed innovative products and established a leadership position in each of the markets it serves, including automotive, aviation, marine, fitness, outdoor recreation, tracking, and wireless applications.