Garmin Pay leaks as Vivoactive 3's take on Apple Pay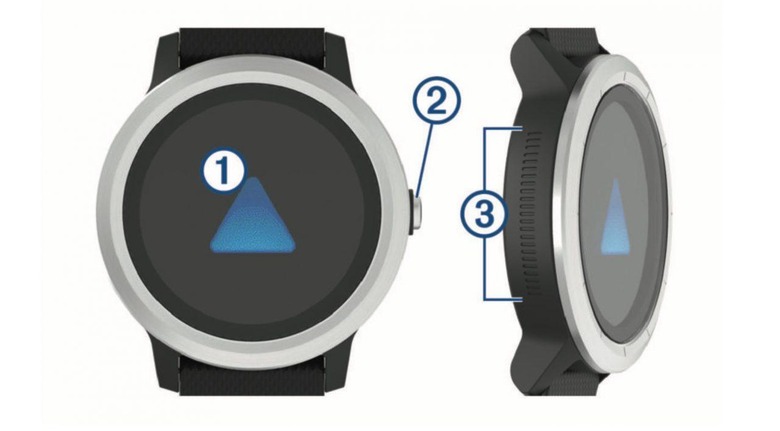 Garmin's Vivoactive 3 smartwatch may have leaked already, but its only today that we're discovering its most unexpected feature. The fitness-tracking smartwatch was spotted earlier this month, with a circular face and the ability to flag notifications from your phone to your wrist. Now, we also know that it could replace your credit card.
That's courtesy of a new, previously unknown service called Garmin Pay. Spotted by Dave Zatz in the Vivoactive 3's FCC filing, it's the company's equivalent of Apple Pay or Samsung Pay.
Like those services, it will allow you to save credit or debit card details to a special account, and then access them and make payments from your smartwatch. Up to ten such cards can be saved to a Garmin Pay wallet, and they can be selectively suspended and activated from the Vivoactive 3 itself. Alternatively, the entire wallet can be suspended.
Making a payment through Garmin Pay will be straightforward. After holding down the menu key, the Garmin Pay icon will show up; from there, you'll need to enter a four-digit PIN, though only once every 24 hours as long as you don't take off the watch in that period (or deactivate heart-rate monitoring). The most recently-used card is selected by default, but if you have more available you can swipe through them in a carousel.
Once selected, holding the Vivoactive 3 near a NFC-enabled payments terminal will make the transaction. The watch vibrates and gives an on-screen confirmation, and payments will be logged in the Garmin Connect Mobile app. That's also where you reactivate your Garmin Wallet if you enter the wrong PIN too many times.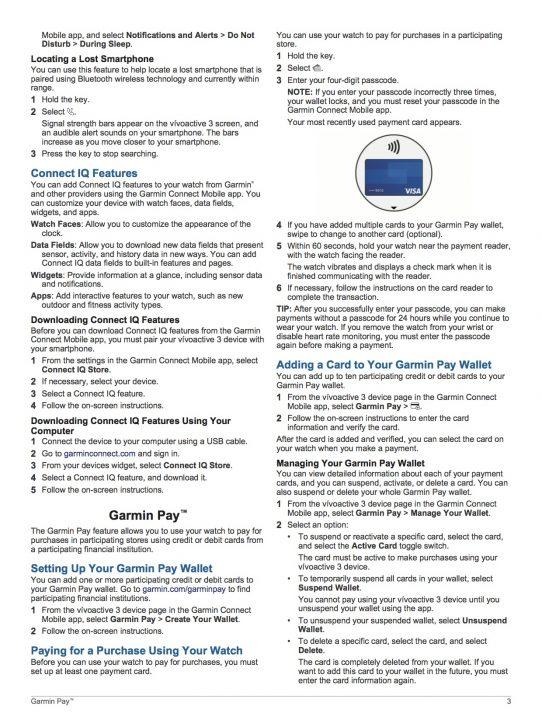 It's questionable whether we need another mobile payments service, but Garmin clearly believes that its customers are willing to go to the effort of setting one up. Certainly it makes a reasonable amount of sense on a fitness device, since users will probably want to go out exercising and maybe leave their actual wallet at home.
In addition to Garmin Pay, the Vivoactive 3 supports native GPS rather than relying on a tethered smartphone, can bring phone call and message notifications to its circular touchscreen, and can broadcast heart-rate readings to other Garmin devices such as Edge cycling computers or VIRB action cameras. It will automatically track sleep, and can be used to remotely control a VIRB camera or music playback on a paired phone. If you've got an ANT+ or Bluetooth fitness sensor, such as a foot pad, that can also be paired.
Garmin says the Vivoactive 3's battery should be good for up to seven days of use in regular smartwatch mode. Turn on GPS tracking, meanwhile, and that drops to up to 13 hours. Still no official word on when it might hit shelves at this stage, nor how much it could cost.