Garmin HUD hands-on: A head-up display for the freeway fighter pilot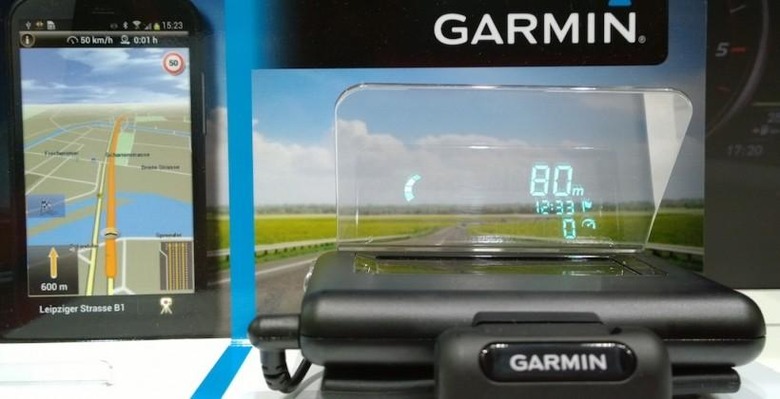 Fighter pilots and Google Glass owners: Garmin is channeling a little of both with its latest navigation accessory, the Garmin HUD, and we took some time to peer through the head-up display while at IFA 2013. The Bluetooth peripheral is designed to sit on your dashboard and project simple guidance and directions to drivers using Garmin's StreetPilot or NAVIGON apps, without forcing them to look away from the windshield or – worse still – down to a phone shoved precariously into a spare cup holder.
In fact, the HUD is really designed to be used fifty percent wireless. It's powered from the 9V power supply on your dashboard, with the adapter itself having a USB port for you to connect and charge your smartphone, too. The link between phone and HUD is Bluetooth, meanwhile, which means once you've set the route, you can effectively leave the handset in your pocket or bag.
We tried the HUD out with the included reflector lens, which clips onto the body of the unit and gives it something to project onto. Even under the bright lights of the show floor the simple graphics were clearly visible. However, Garmin also provides an adhesive transparent film which can be stuck to the windshield and the greenish-grey directions projected there, instead.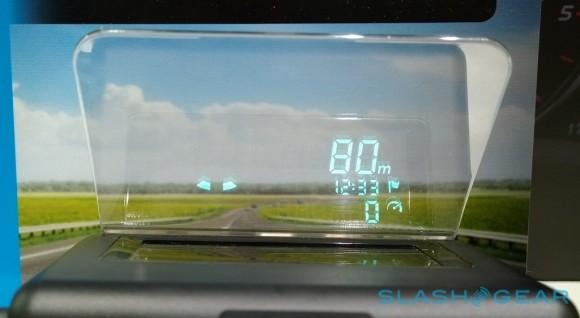 Garmin's choice of graphics are simplistic, though that's probably a sensible decision for the company to make. On the left, you get a big arrow showing the next turn, together with lane indicators if the road demands it. On the right, meanwhile, there are read-outs for the distance to the next turn, the current speed, estimated time of arrival, and the maximum speed limit of the road you're on.
Unfortunately, you don't get an integrated speaker, which seems like a missed opportunity. If you still want spoken directions, it'll be your phone pronouncing them, and so you'll need to have it reasonable accessible if you're to hear it.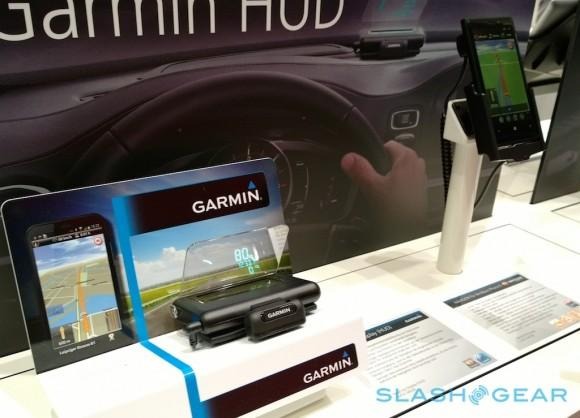 Still, the HUD makes a lot of sense if you're a frequent driver. Ideal would be if it was compatible with third-party applications, like Google Maps, though obviously Garmin would like you to buy its companion apps (from $29.99) instead.
The Garmin HUD is shipping imminently, priced at $129.99.