Gamestop gaming tablet plans confirmed for later in 2011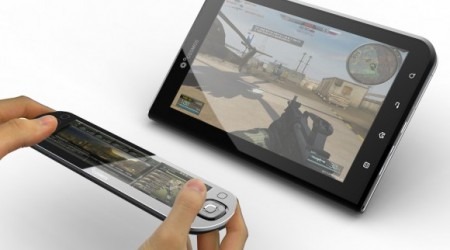 Retailer Gamestop has confirmed it plans to offer its own gaming tablet, complete with an app store dedicated to games titles. According to Gamestop president Tony Bartel, the company is still deciding between developing its own slate or using an existing design from an OEM, depending on the strength of the gaming experience and the flexibility in using a Bluetooth-connected controller.
"If we can work with our partners and the OEMs and they come up with a great tablet that is enabled with a great gaming experience and coupled with a bluetooth controller, then there's no need to go out and develop our own," Bartel told CNBC. "But if we can't find one that's great for gaming, then we will create our own."
The own-brand Gamestop tablet won't be the only slate on offer; general tablet hardware sales will begin at the retailer later in 2011. The company's motivation is selling games software via its Impulse digital store, with Gamestop promising that, in the near future, all titles they have bought physically will be available in digital versions to their Impulse accounts.
[Image is OSCOSMOS' OSC9 mockup]