Game of Thrones Season 4 trailer 2: "the ones I'm going to kill"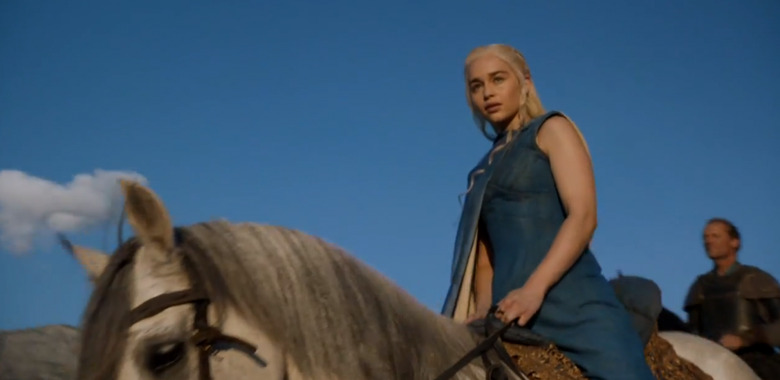 Leading up to the day when Game of Thrones Season 4 begins, clips are being shared by the teams behind the promotion of the series. If you're not about SPOLIERS, we suggest you turn back now. There are plenty of spoilers here – though if you're a traditionalist, and enjoy watching the series after you've seen it once through – by all means, jump in!
With ample warning, it's surprising that if you're not about SPOILERS, you're still moving forward. This Game of Thrones season 4 trailer is 20 seconds short of two minutes long and it has more spoilers in it than the 14 minute trailer shared earlier. Make sure you don't watch the last 30 seconds if you don't want to be spoiled – what's seen cannot be unseen.
The trailer begins with Arya Stark speaking the names of the people that she wants to eliminate. This harkens back to the season before where it was given to her the method with which she'd get through her hard road ahead. Remember those that've wronged you, suggested her guide, and you'll be able to forge on – so to speak. This seems to be a theme of this season throughout. No more fun and games.
"Joffrey, Cersei, Tywin Lannister, the Red Woman. I can't sleep until I say the names." – Arya Stark

"The names of every person in Westeros?" – Sandor Clegane

"Only the ones I'm going to kill."
You'll also see what appears to be Tyrion Lannister standing in chains before a throned Daenerys Targaryen. It's there that Tyrion repeats the line he spoke in the previous trailer: "if you want justice, you've come to the wrong place."
Game of Thrones season 4 begins on Sunday, April 6th at 9PM Eastern Time, 8PM Central. That's 7PM Mountain Time and 6PM Pacific, if you did not know. That'll be on both HBO – the television network – as well as HBO go, the app.