See The Pope's Lamborghini Huracán at Sotheby's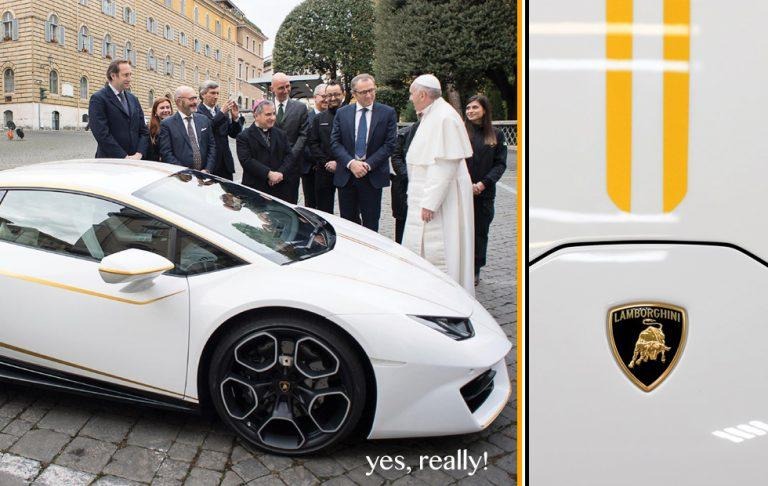 The ultimate Popemobile was just put up for auction at RM Sotheby's – for charity, of course. The vehicle was first donated to His Holiness Pope Francis back in November of 2017. For the first time since the signing ceremony, we're given an up-close look at this vehicle just as it enters public auction. Sadly, it does not appear that Francis will be taking this vehicle on any joy-rides.
This is a special edition one-of-a-kind 2018 Lamborghini Huracán RWD Coupé with Pope Francis customizations. The vehicle was first donated by Automobili Lamborghini to the Pope, then delivered to RM Sotheby's for their MONACO 2018 auction series. This vehicle will be delivered with a Certificato di Origine Lamborghini and the knowledge that the Pope of the Catholic Church once signed this vehicle's hood.
"Customized and built to European specifications by Lamborghini's Ad Personam program, the car is finished in Bianco Monocerus contrasted by Giallo Tiberino stripes and detailing in homage to the colours of the flag of Vatican City," said the Sotheby's listing. "Riding on diamond-finished 20-in. Giano wheels covering Nero callipers, the car is trimmed within in Bianco Leda Sportivo leather, with Lamborghini crests adorning the headrests."
This vehicle is being "presented in virtually as-new condition" as it's been in "static storage" since production in late 2017. That is, aside from the time it was presented to the Pope and he busted out a black writing utensil to sign the hood. We'll assume the hood's still attached – but really, it looks pretty clean. Did Sotheby's accidentally buff out the Pope's signature?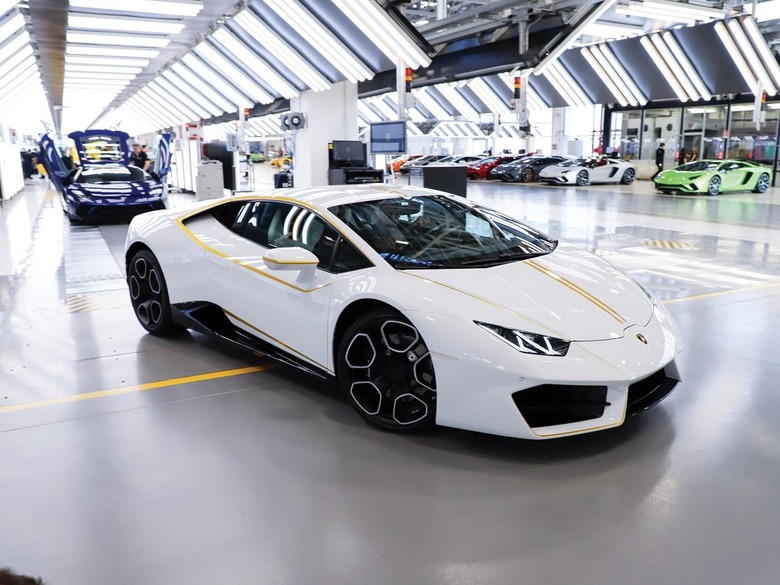 Photos with the Pope in this article were captured by the folks at Riptide and published and re-published by Sotheby's. Interior photos were captured by photographer Guizzardi Umberto for RM Sotheby's.
And yes, the custom colors on the exterior of this vehicle are meant to replicate the Pope's outfit. It's like the Darth Vader car, but for the Pope. And there's only one. And someone, somewhere, is going to buy it for themselves to hide away forever – IT BELONGS IN A MUSEUM!
This vehicle has chassis number ZHWEC2ZF1HLA06894, and it's lot number 161 for the 2018 MONACO auction series with RM Sotheby's. The auction was planned to take place on Saturday the 12th of May, 2018. This vehicle's bidding estimates are between 250-350-thousand Euro, and it'll be offered without a reserve price.