Galaxy X foldable smartphone sees Samsung fight its natural inclinations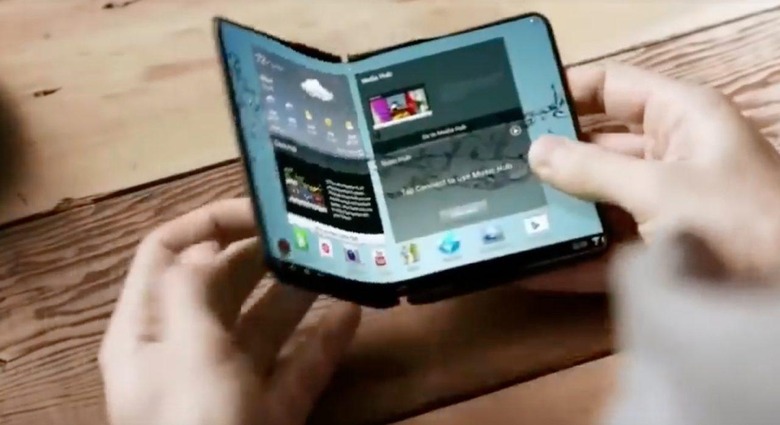 Samsung has a folding phone challenge. On the one hand, the smartphone-maker can't afford to rush its flexible smartphone – colloquially, though unofficially, known as the "Galaxy X" – to market and risk it being underwhelming. At the same time, however, the company's addiction to being first out of the gate with new technologies leaves it paranoid that rivals might beat it to the finish line.
With a project so headline-friendly – and so time-consuming – as a foldable smartphone, that risk is only magnified. Whispers of the Galaxy X have circulated for several years now, and indeed back in 2016 DJ Koh, president of Samsung's mobile business, publicly discussed the possibility of a clamshell device that could be folded in half. More recently, the goal of a 2018 release has been postponed until 2019.
That, Samsung has suggested, is because it doesn't want to launch its foldable smartphone until it's actually ready. There are several elements to that, of course. Fundamentally, a display that's designed to flex repeatedly is a significant step beyond Samsung's current curved Super AMOLED, which wraps around the edges of handsets like the Galaxy Note 9 and Galaxy S9.
Samsung has demonstrated its rollable OLED before, but ensuring that holds up not only in prototypes but when faced with the challenges of the real-world is another matter. Meanwhile, the practical applications of such a display need to be made concrete. If apps and services aren't ready to take advantage of such a panel, the Galaxy X risks being declared pointless technological boasting.
Koh, however, is upbeat about the company's progress on all those fronts. Samsung has been "focusing on developing innovations that will be genuinely accepted and liked by consumers," he told ZDNet, insisting that some of the key issues in both quality and durability have been dealt with.
All the same, Samsung "didn't want to lose the world's-first title," he pointed out. LG, which also has an OLED-producing display business, is believed to be working on a foldable phone of its own, while Huawei is also said to be exploring the possibility. None have committed to a firm release date, at least in public.
According to the Samsung mobile chief, though, there's more to folding phones than one marketing point. "We wouldn't have started [the project] if it was a going to be a one-time thing," he insists. Nonetheless, predictions are that the first-generation Galaxy X is going to carry a premium price tag, and even as Samsung pushes manufacturing of more flexible OLED it's unclear how rapidly such technology could approach the mass market.