Galaxy Watch Active2 Under Armour Edition official details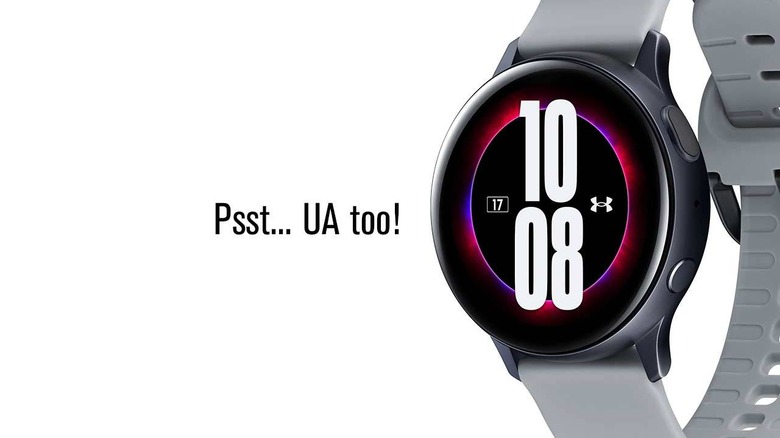 So we'd heard rumors of this watch, then on the day the Active2 smartwatch was revealed, there was no info about an Under Armour edition. It didn't seem like that much of a stretch to assume that, maybe at one point there'd been a watch like this in the works but it didn't end up being made – or maybe the original rumor was simply untrue. As it turns out, there IS an Under Armour Edition of the Galaxy Watch Active2 and it is... well...
So the Samsung Galaxy Watch Active2 Under Armour Edition watch is very, very similar to the non-UA version. The rumors were true, but didn't include ALL the details. Purchase of this watch does indeed include six months of free MapMyRun Premium Membership.
This version has an aluminum body like the standard version of the watch, but with an "exclusively developed watch face" right out the gate and two size versions. There's a 44mm with a Black strap, and 40mm with Mod gray strap, both straps are made with Fluoroelastomer (FKM) material and a "breathable design."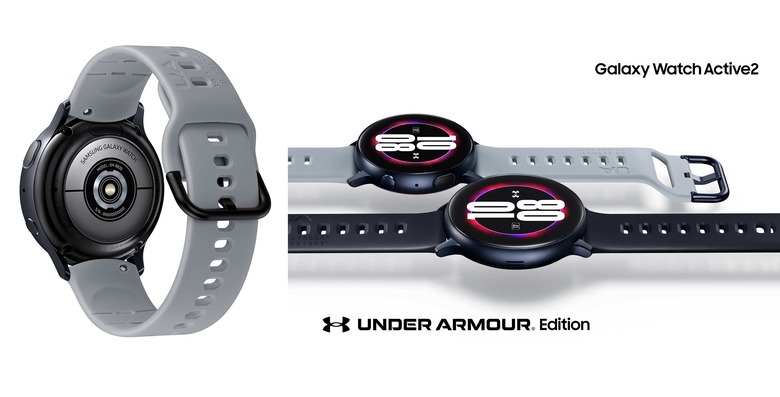 The most enticing "exclusive" bit about this watch is its ability to pair with UA HOVR Connected running shoes. That's exclusive to this watch – sort of. This UA edition of the watch will "offer users up-to-the-minute stats on stride length and real-time form coaching." But there's a disclaimer on the exclusive bit in the documentation we're working with here. In that disclaimer, Samsung writes: "Real-time feedback is available on Galaxy Watch, Active, and Active2 when paired with the UA HOVR Connected running shoes."
So assuming you'd love to connect your non-UA edition black aluminum Galaxy Watch Active2 to your UA HOVR Connected running shoes, you can still do that just as well. You're pretty much mostly paying a little extra for the "free" six months of MapMyRun Premium Membership and the pair of UA-designed digital watch faces. Unless I'm totally off-base and that watch strap that comes with the UA edition is next-level amazing!
The Stainless Steel version of the watch has a starting cost of $380, and the LTE version starts at $430. The Aluminum version is available only in a Bluetooth edition starting at $279, while the Under Armour Edition (also only in Bluetooth) starts at $309.